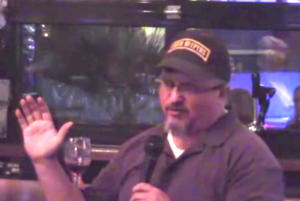 For the uninitiated, the Oath Keepers is a group of law enforcement officials and military types whose goal is to uphold the Constitution, unless the government starts getting unconstitutionally tyrannical in their business. With that in mind, here's one of them calling for Sen. John McCain (R-AZ) to be tried and hung to death.
Via Right Wing Watch comes a video of Oath Keepers founder Stewart Rhodes speaking to a conservative gathering in Arizona. In the middle of his speech, reminding the audience of how Ron Paul delegates were shut out of the 2008 GOP convention he blasted the former Navy captain for his membership in the "GOP good-ol'-boy network."
Rhodes then said that the "traitor" was "their preordained, anointed candidate who would go along with the program of the destruction of this country":
He should be tried for treason before a jury of his peers, which he would deny you," he went on. "He supports your denial of a jury trial, he supported the NDAA saying that he could just have the president slam you into a brig in North Carolina or South Carolina or wherever else he wanted to, try you by military tribunal and have you executed. He would deny you the right for trial to jury — but we will give him a trial for jury, and then after we convict him, he should be hung by the neck until dead! But that was their candidate!
The Arizona Senate President Andy Biggs (R) also happened to be there as the keynote speaker, but didn't quite realize who he was associating with until after Rhodes made his comments.
Watch below via RWW:
[h/t TPM]
[Image via screenshot]
—
>> Follow Tina Nguyen (@Tina_Nguyen) on Twitter
Have a tip we should know? tips@mediaite.com