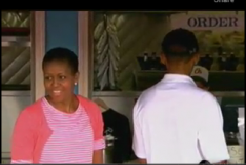 President Obama has been vacationing all week in Martha's Vineyard and thus far there has been no major news event to to force him back into the public eye. Not that he has managed to get out of it for long. Yesterday reporters followed the President and Mrs. Obama to a local lunch stand, while the two were greeting happy onlookers a reporter attempted to ask Obama about Iraq he responded jovially and with a shrug: "We're buying shrimp guys."
The response was immediately construed in some corners as evidence Obama thinks vacation is more important than his job. Regardless, it highlights the problem of the Obamas vacationing in such a public setting. As Mark Knoller so ably and frequently points out, George W. Bush had taken far more vacations at this point in his presidency than Obama, however he mostly took them on his ranch in Texas, far out of the public and press' eye, significantly reducing the chance of similar "shrimp" headlines and photo-ops.
Meanwhile, Deputy Press Secretary Bill Burton told the press briefing yesterday that Obama would have nothing further to say on the Lower Manhattan mosque.
The White House says President Barack Obama will have no further comment on the mosque near Ground Zero in New York and the administration will not get involved in talks about relocating the controversial facility.

Deputy Press Secretary Bill Burton was asked about the issue Tuesday at a White House press briefing.

He replied, "No, and no" to the questions of whether Obama would weigh in further, or whether the White House would have a role in discussions about moving the mosque.
Famous last words? We shall see. Video of the Obamas 'buying shrimp' below.
Have a tip we should know? tips@mediaite.com