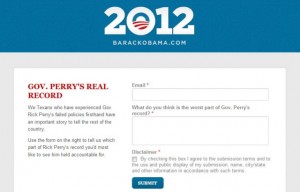 Several conservative blogs have taken note of a campaign email, from Obama For America Texas Campaign Director Hector Nieto, that asks Texans to submit their choices for "which part of Rick Perry's record you'd most like to see him held accountable for."
Conservative blogs are interpreting this as an oppo research fishing expedition, but given the staggering resources at OFA's disposal, it's hard to imagine that this is anything other than a fundraising come-on.
It's true that the email does contain a submission form for Perry gripes, and it does contain a disclaimer that allows the campaign the "the use and public display of my submission, name, city/state and other information," which has led many to conclude that this is a hunt for negative campaign fodder. From The Dallas Morning News' Todd J. Gillman:
The Obama campaign team is asking Texans to share complaints about Gov. Rick Perry, and compiling the critiques for possible use in Perry-bashing ads and other material – a sure sign the president's advisers are taking no chances.

…Nieto's email says hundreds of Texans have already shared their dim views on Perry, directing critics to an online form where they can suggest their own favorite "failed policies" for which he should be held accountable.

Submitting a suggestion grants the Obama campaign perpetual rights to use the comments in any form of political advertising.
This is all true, and while compiling a Perry dossier is one possible object of the campaign, is it the primary goal?
Hot Air's Allahpundit sees this as a sign of…something:
I'm intrigued by the fact that they're not content to rely on standard oppo research in this case but want man-on-the-street grumbling from Texas liberals instead. Is that because they're deeply (and understandably) worried about voters being dazzled by Texas's record on jobs and think that only "eyewitness testimony" from the locals disputing it will be effective? Or is it because Perry has a huge, obvious populist advantage over President Spock such that only fellow salt-of-the-earth southerners might be able to counter it?
I suppose it's possible that there's someone at OFA who thinks that sifting through thousands of comments from disgruntled Texans will yield some golden nugget that was missed by their expert researchers and the thousands of Cheeto-dusted liberal bloggers who scour the internets 24/7. Having covered many presidential campaigns, and the White House for the duration of the Obama administration, I can tell you that there is no organization more adept at oppo research than Obama's. I guarantee you that if Rick Perry ever beaned a fifth-grade classmate with a Wiffle Ball, OFA has it on video from three different angles, and a copy of the school nurse's report.
Whether or not the Texas email yields oppo gold, though, it will achieve the one thing that OFA does better than anything else: collecting donations. The Obama campaign thrives on the idea that everybody can make a difference, and for an Obama supporter, what could be more attractive than the possibility of being featured in a campaign ad? What's more appealing than the notion that the campaign wants to hear what you have to say?
The Texans Against Perry submission form is about as likely to topple Perry as Tuesday's earthquake. The real point of Nieto's email is right at the bottom:
This campaign isn't funded by Washington lobbyists or corporate interests. We rely on donations from people like you. You should donate today.
(h/t)
Have a tip we should know? tips@mediaite.com