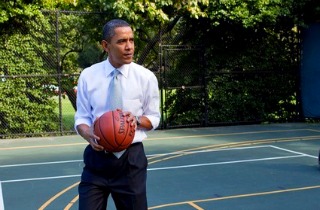 President Obama needed 12 stitches after he was knocked in the mouth while playing basketball at the White House in late 2010. That happened because he was playing an intense game that got rough and serious. He wanted to win.
Why won't he treat his real job like that?
Bloomberg Businessweek is out with an article this week arguing that Obama is too "intellectual" and too "rational" to show emotion when confronted with a crisis like the Ebola outbreak or the YouTube videos showing American journalists beheaded by ISIS.
"Obama disdains the performative aspects of his job," writes Businessweek's Joshua Green. He quotes former Obama adviser David Axelrod saying, "There's no doubt that there's a theatrical nature to the presidency that he (Obama) resists."
For anyone with a job, displaying a sense of urgency and devotion is the job. Except for Obama. He's above the "theatrical nature" of his.
The first ISIS beheading video came out while Obama was on vacation over the summer. Everyone who heard the news was stunned. Obama gave a press conference then went golfing.
When asked about it in a later interview, Obama said he "should have anticipated the optics. That's part of the job."
The optics. As if it were a matter of choosing where to be seen eating after church on Sunday. Guys, we're not doing Georgia Brown's.
"Only with public confidence slipping and dozens of congressmen calling for a ban on travel from West Africa did Obama submit to the kind of grand theatrical gesture he abhors," reads more of the Businessweek column. "He canceled a campaign trip to hold an emergency cabinet meeting and appointed Ron Klain, a veteran political operative, to coordinate the government's Ebola response."
For anyone with a job, adapting to change and prioritizing is the job. For Obama it's just a "kind of grand theatrical gesture he abhors."
Before a basketball game, the coach gives a pre-game speech to amp up the players. It's supposed to get them focused and instill some motivation to work hard.
That's what Obama needs. He's a little too old for it but basketball is the only thing that makes him move with purpose.
[Photo via White House]
— —
>> Follow Eddie Scarry (@eScarry) on Twitter
Have a tip we should know? tips@mediaite.com