Obama Defends Deal: 'Most Definitive Path by Which Iran Will Not Get a Nuclear Weapon'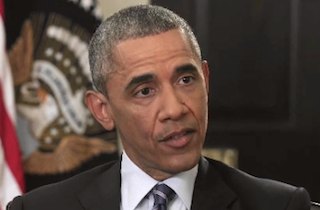 President Obama defended the Iran nuclear deal in an interview with New York Times columnist Thomas Friedman. And despite what critics may say, the president insisted, "What I'm going to be able to say, and I think we will be able to prove, is that this by a wide margin is the most definitive path by which Iran will not get a nuclear weapon."
He said the deal "cut[s] off every pathway" for Iran to try and build nukes, and it's "based on a verifiable mechanism, whereby every pathway that they have is shut off."
As for Republican criticisms of the deal, this is what Obama had to say:
"I think there's a certain party line that has to be toed, within their primaries and among many sitting members of Congress. But that's not across the board. It'll be interesting to see what somebody like a Rand Paul has to say about this. But I think that if I were succeeded by a Republican president — and I'll be doing everything that I can to prevent that from happening — but if I were, that Republican president would be in a much stronger position than I was when I came into office, in terms of constraining Iran's nuclear program."
Israeli Prime Minister Benjamin Netanyahu denounced the deal earlier today as a "historic mistake," and Obama acknowledged their differences to Friedman, but also argued, "I think it's fair to say that under my administration, we've done more to facilitate Israeli capabilities. And I've also said that I'm prepared to go further than any other administration's gone before in terms of providing them additional security assurances from the United States."
You can read more from the interview here.
And you can watch video from the interview here, via The New York Times:
[image via screengrab]
— —
Follow Josh Feldman on Twitter: @feldmaniac
Have a tip we should know? tips@mediaite.com
Josh Feldman - Senior Editor