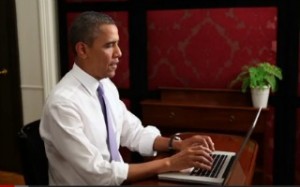 President Barack Obama says that he wanted to show his supporters that he was "walking the walk" when he donated $5,000 to his own presidential campaign in a recent web video. "We depend on $5, $10, $20 donations," said Obama in the video. "We don't get some of the massive checks that the other side does but we have this incredible grassroots network."

RELATED: Obama Campaign Email: We Raised $35 Million Less Than Romney In June
"I have cleared this with Michelle — I want everybody to know," said Obama as he typed in his information into the Obama camping's website.
"It's tough given how tight things are right now for a lot of people," said Obama. The President said that he wanted to donate so that he could show that he has skin in the game when it comes to his reelection fundraising efforts.
Obama remarked that the process of entering a donation seemed "pretty convenient" as he listed his employer as "United States of America" and his occupation as "President."
"You know, right now is when we've got to start making plans for what we're going to be doing in September and October," Obama says. "And you know a lot of times, money that comes in the last week or two of the campaign, when people are really paying attention and enthusiastic — sometimes that money comes a little bit too late."
It is not clear how much Obama donated to his campaign in the video, but the campaign told reporters on Monday that the President made a $5,000 donation.
Watch the video below:
> >Follow Noah Rothman (@Noah_C_Rothman) on Twitter
Have a tip we should know? tips@mediaite.com