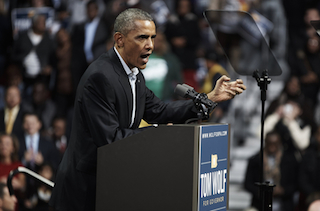 BuzzFeed editor-in-chief Ben Smith asked President Barack Obama to respond to some mischief by office supply chain Staples, which has threatened to punish workers who clock enough hours to trigger the employee-provided health care under the Affordable Care Act's employer mandate.
Obama said Staples had more than enough revenue to provide its employees either health care or adequate wages to buy some.

"I haven't looked at Staples stock lately or what the compensation of the CEO is, but I suspect that they could well afford to treat their workers favorably and give them some basic financial security," Obama said. "If they can't, then they should be willing to allow those workers to get the Affordable Care Act without cutting wages."
The president then tied the issue to sick leave, which he said large corporations could easily afford to grant their employees.
"It's one thing when you've got a mom-and-pop store who can't afford to provide paid sick leave or health insurance or minimum wage to workers — even though a large percentage of those small businesses do it because they know it's the right thing to do," Obama said. "[But] when I hear large corporations that make billions of dollars in profits trying to blame our interest in providing health insurance as an excuse for cutting back workers' wages, shame on them."
Watch the video below, via BuzzFeed:
[h/t BuzzFeed]
[Image via LaMarr McDaniel / Shutterstock.com]
——
>> Follow Evan McMurry (@evanmcmurry) on Twitter
Have a tip we should know? tips@mediaite.com