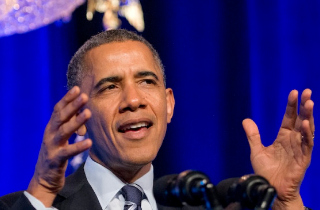 During a Tuesday afternoon conference, President Obama ridiculed critics who label him a "socialist," suggesting they meet some "real socialists" to understand the difference.
The remarks came during Obama's appearance at the Wall Street Journal CEO Summit. "People call me a socialist sometimes," he said to the crowd. "But, no, you gotta meet real socialists. You'll have a sense of what a socialist is," he followed up, eliciting laughter from the crowd.

"I'm talking about lowering the corporate tax rate, my health care reform is based on the private marketplace, stock market's looking pretty good last time I checked," he told the crowd of business executives. "And, you know, it is true I'm concerned about growing inequality in our system, but nobody questions the efficacy of market economies in terms of producing wealth and innovation and keeping us competitive."
-RELATED: Does President Obama's New 'Forward' Slogan Prove He's A Marxist? No.
While many on the right reflexively break out the S-word to describe the president's deep-seated views, I'm more sympathetic to Obama's plea for nuance here. As Reason's Matthew Feeney points out, "Obama may be a center-left politician, but he has nothing on many left-wing politicians in Europe."
In fact, the people who understand that "socialism" means total government ownership/control of an industry (something we don't quite see in the States) have long labeled Obama to be more of a "state capitalist," a "corporatist," or a "crony capitalist."
[h/t Reason 24/7]
[photo via AP]
— —
>> Follow Andrew Kirell (@AndrewKirell) on Twitter
Have a tip we should know? [email protected]