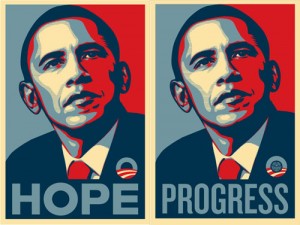 Four years ago, Barack Obama was the idealist outsider who ran on a platform of bringing change to the Washington establishment and giving Americans hope in a time of economic peril. Fast-forward to today, and the president's campaign team acknowledges the realities of their situation would not permit them to use the same slogans and rhetoric as the last time around. The president is presiding over an economy that most Americans have a gloomy view of, and a good number of former Obama supporters have been increasingly dissatisfied with certain policies he has chosen to pursue.
RELATED: Barney Frank Offers Lawrence O'Donnell A 2012 Democrat Slogan: 'We're Not Perfect, But They're Nuts'
That's why one of the key messages of the Obama campaign that needs to be addressed is a slogan that resonates with the president's base and people who are on the fence. According to Reuters, the campaign is sticking with simple "Obama 2012" posters for now, but they are testing a number of alternatives to tap into voter frustrations over the economy and divided government.
Obama's surrogates have roadtested some slogans in recent months, including "Winning The Future," which the White House used to promote its budget, and "Greater Together," which the campaign has used to brand its youth outreach effort…

Obama is aware of that difficulty. He still refers to his old slogan at campaign fundraisers, emphasizing the "change" he has achieved, while dropping lines that could be test runs for a pitch to convince voters to give him another term.

"When you think about change that we can believe in, as hard as these last three years have been, don't underestimate the changes we've made," Obama said at a fundraiser in California this week.
The phrase "winning the future" has been part of the president's vocabulary since his 2011 State of the Union address, and the phrase "greater together" started popping up in Obama's speeches late last year.
h/t Reuters
Have a tip we should know? tips@mediaite.com
Josh Feldman - Senior Editor