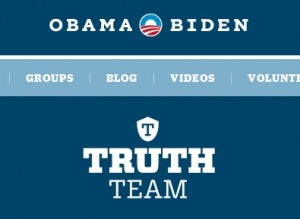 It's not exactly Detective Comics #27, or a first printing of the Gutenberg Bible (who knew the Police Academy movies were so rich in religious subtext?), but Friday night saw the release of the inaugural Obama For America Truth Team Tip Sheet, a collection of political bullets for supporters to fire at the watercooler, and into the social media stratosphere. Now, I just need to figure out how to get an email into a durable, acid-free plastic sleeve.
The "Truth Team," rolled out earlier this week, is this year's version of the President's 2008 campaign "Fight the Smears" site, and folds in the already-existing AttackWatch site, along with companion sites that "Keep the GOP honest" and highlight the President's record of "Keeping His Word."
When launched, AttackWatch created a media mini-firestorm, but didn't really go anywhere. I signed up by "reporting" conservative attacks on the AttackWatch site, but never got any response, or any email of any kind, from AttackWatch. Apparently, though, that interaction grandfathered me into a subscription to the "Truth Team Tip Sheet."
From Obama For America's email to supporters:
Tommy —

Welcome to the Truth Team tipsheet. You signed up to be part of the team that fights back, and there's no time to waste.

This is the first of regular updates we'll be sending with actions you can take immediately to help support the President — to debunk false attacks and make sure folks hear about what we've accomplished.

Here's how it works: We'll round up the best of our posts and turn them into short items, with Facebook and Twitter buttons after each so you can instantly share them with friends and family as you go down the list.
The tip sheet illustrates what the Obama campaign does best, leveraging their extensive network of small donors and supporters into a grassroots messaging army. The social media component is a smart feature that could potentially have a huge multiplier effect.
This effort also underscores a key difference in the way Obama for America operates, as compared to other presidential campaigns. This will probably change once the Republican nomination is settled, but until now, the OFA press shop hasn't been very active at all in broadcasting oppo research, and other campaign messaging, to journalists. While the Republican presidential campaigns push out dozens of memos to reporters every day, the Obama campaign has averaged about five a month since October.
Instead, they have concentrated their efforts on that network of supporters. They don't announce their fundraising numbers via press releases, they release that information to supporters, and we get it right along with them. This accomplishes the dual functions of capitalizing on that huge base of supporters, and making them feel more important, more valued, and as a consequence, more energized.
This election has been a chaotic case study in political campaigning, with Rick Santorum's bargain-basement victory in Iowa, Newt Gingrich's Adelson-aided victory in South Carolina, and Mitt Romney's mud-slinging barrage in Florida each teaching different lessons about the role of big money in politics. The President has taken heat for encouraging donations to his SuperPAC, but efforts like this one could prove to be an inexpensive way to cut through all of that independent expenditure noise.
Have a tip we should know? tips@mediaite.com