Observer Tried to Hire an Ice Cream Shop Manager to Write Pro-Trump Takedown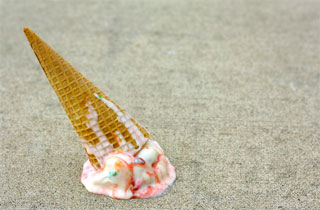 We'd expect more drama to arise in the story behind a recent New York Observer article about New York AG Eric Schneiderman's battle against Donald Trump and his eponymous University: the fact that the Observer is owned by Trump's son-in-law, and that the piece retread most of Trump's talking points, is already salacious enough. (Also, Donald Trump is involved.) But we didn't expect a cherry on top of this sundae. And by that, we mean we didn't expect real ice cream to be involved in this story.
After Buzzfeed revealed that the original freelance author of the 7,000-word piece had turned down the job, offered to him by Observer editor Ken Kurson, the New York Times did some more digging into that author's background, and discovered that not only did Bill Gifford have "almost no journalistic experience," but he was also the manager of an ice cream shop when Kurson, a frequent customer who knew that Gifford was looking for a job, pitched him the story. Giffords says that he eventually quit after it became clear that Kurson was looking to smear Schneiderman:
Mr. Kurson described Mr. Schneiderman as a "bad guy" and a "phony," and hired Mr. Gifford for the writing assignment, Mr. Gifford said. But after several weeks, and after being sent negative articles about Mr. Schneiderman, Mr. Gifford said on Wednesday, he became convinced that the article "was supposed to be basically a smear piece" and he quit the job…
"He does come to my shop, he did want to give me this opportunity," [Gifford] said, "but I do feel like he might have been using me. To even call me a journalist is a reach, and to write such an important piece on an important person," he said, tailing off.
What is even the cherry on this story sundae anymore? And does that make Trump a banana?
[h/t NYT]
— —
>> Follow Tina Nguyen (@Tina_Nguyen) on Twitter
Have a tip we should know? tips@mediaite.com