'Oh Sweet Moses': Twitchy Mocks CNN's Journalism While Failing to Do Its Own
When your entire website's existence is predicated on aggregating the musings of #tcot experts, D-list celebrities, and whacky liberal trolls, you're bound to pick up and run with a few false memes.
One such example came Wednesday afternoon when Twitchy found a tweet containing a photo of goofy CNN segment and its accompanying chyron: "'N-Word' vs. Cracker: Which Is Worse?"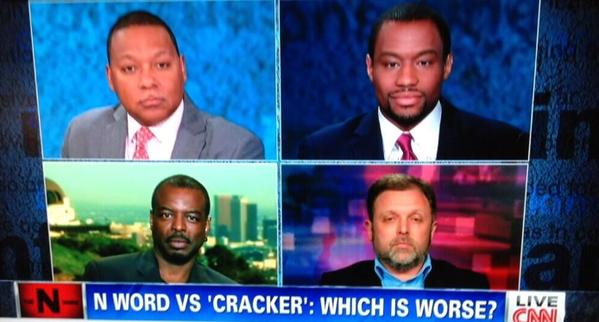 "It looks like CNN is truly grasping for things to talk about in lieu of their party's crushing defeat last week," the non-bylined Twitchy writer remarked before collecting several incredulous conservatives gasping at the timing and banality of such a segment, including:
@BecketAdams @TheMaverick21 oh sweet moses.

— C-Shellن (@Isla_78) November 12, 2014
Twitchy also mocked CNN as "a crack journalistic team" for having aired such a segment, especially in the wake of all this other important political news.
Except one glaring problem: That segment aired July 1st. Of 2013.
Perhaps before picking up on a meme to conveniently fit a narrative that CNN is distracting from "its party's" crippling midterm losses, you may want to do some "crack journalism" yourself.
To quote a particular website: "Boomroasted."
BUT WAIT. The best part? Twitchy covered this exact segment back in 2013.
(Also: Mediaite covered that very segment and noted, back then, how utterly dopey the whole thing was.)
UPDATE — 7:05 p.m. ET: Twitchy corrected the post, adding a mea culpa:
Editor's Note: Oops. We assumed the photo being shared on Twitter was a current one since the dreaded "cracker" debate has once again been in the news. See: Rep. Charles Rangel says he thought cracker was 'a term of endearment' and 'Social media works!' Twitter pressure helps suspend teacher who tweeted 'crackers' should 'Kill yourselves'. We should have known better because we even did a post about CNN's discussion of it when it aired last year. At last: CNN's expert panel tackles 'N-word vs. cracker' debate. So, this critical discussion clearly did not take place to distract from the GOP wave as we facetiously suggested. Mea culpa.
— —
>> Follow Andrew Kirell (@AndrewKirell) on Twitter
Have a tip we should know? tips@mediaite.com