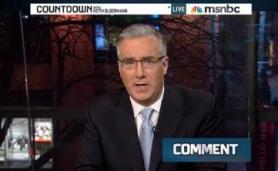 Keith Olbermann unleashed a super-aggressive, borderline-absurd last minute "quick comment" about GOP Massachusetts U.S. Senate candidate Scott Brown, highlighting some of the story lines that have been put out there by his critics over the last few weeks and taking it to a nauseating extreme.
But it was the Twitter response from Olbermann's MSNBC colleague Joe Scarborough, by name, that may further this story even more. Update: With Scarborough video.
Olbermann introduced the comment by saying Brown has been "talking out of his bare-bottom," a reference of course to the 1980s Cosmo pictures. In the next minute, he highlighted the off-hand 'Obama maybe born out of wedlock' comment from Brown last year, and the murky-at-best possibility Brown responded favorably to a disgusting comment said during a recent rally. And more.
So here's his conclusion:
In Scott Brown we have an irresponsible, homophobic, racist, reactionary, ex-nude model, teabagging supporter of violence against woman and against politicians with whom he disagrees…The Commonwealth of Massachusetts is close to sending this bad joke to the Senate of the United States.
We'll let Scarborough, Olbermann's co-worker, take the lead on a response (sic'ed):
Obermann calls Brown a "homophobic racist reactionary" who "supports violence against women." How reckless and how sad.

It is no longer enough to simply disagree with someone. These days some feel the need to call opponents evil. It happens on both extremes.

Just as when Beck called the President racist, this sort of rhetorical extremism must be discouraged. It cheapens the debate.
This isn't the first time Scarborough has essentially called out Olbermann, but on-air, it is never by name. His one reference on Morning Joe today to the Olbermann comment followed the same model. "A certain person on this network, whose name will not be mentioned, went on a tirade the likes of which are sad and pathetic," he said.
But even on Twitter, the comment is out there, and the shot is direct. Is it MSNBC civil war? Not quite. But we'll see if Olbermann has a response tonight – especially if the "bad joke" ends up winning.
Here's the Olbermann "quick comment":


> Update: Here is video of Scarborough's comment on Morning Joe:


—–
» Follow Steve Krakauer on Twitter
Have a tip we should know? tips@mediaite.com