Olbermann Resurrection: Napalmed Bridges Of The Past Aside, Keith Is Still A Commodity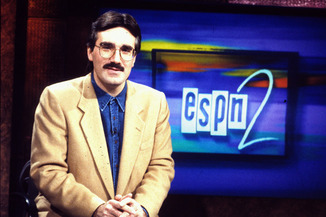 Haven't been much of a Bond guy since the departure of Sir Roger Moore (particularly during the mediocre Timothy Dalton/Pierce Brosnan years), but Skyfall–despite being far less than perfect—brought me back into the fold with dialogue like this:
Bond (Daniel Craig): Everyone needs a hobby…
Bad guy: So what's yours?
Bond: Resurrection.
When it comes to resurrection on the small screen, Keith Olbermann —fresh off the announcement of his return to ESPN to host a program slated to focus on sports and pop culture–has some things in common with 007. Just check out this resume from 1992-on:
ESPN SportsCenter co-anchor: 1992-1997
MSNBC's The Big Show , host: 1997-1998
Major League Baseball on Fox, studio host: 1999-2000
The Keith Olbermann Evening News (Fox Sports Net): 1998-2001
Countdown with Keith Olbermann, anchor (MSNBC): 2003-2011
NBC's Football Night in America, co-host (of many): 2007-2010
Countdown with Keith Olbermann (Current TV): 2011-2012
The career path above doesn't include stints with CNN (1981) or MLB Network (2012- guest hosted once) or his work in radio (ABC), or his regular guest spots with former SportsCenter partner-in-crime Dan Patrick on ESPN Radio (2009-2010). So for those keeping track at home, Olbermann has (in some form) worked for and later returned to ESPN and MSNBC, and (most shockingly given future nightly commentary) was once part of the same family as Bill O'Reilly while receiving paychecks from Rupert Murdoch (FOX Sports). And as few need reminding, most of those stints ended thusly as described by Olbermann:
"Some people have said I did not burn the bridges, I have napalmed them. My argument was I did not burn the bridges, I burned the rivers."
Back in April, reports surfaced of Olbermann seriously considering a return to ESPN. And while most said such a re-marriage would be impossible, a decent (not great) argument can actually be made for his return if it means a show that isn't focused on politics (more on that being shaky ground in a moment). Reasons include:
A) Keith's staunch liberalism is well-known even to those who live outside the cable news bubble. This is just an educated guess, but ESPN's audience—which is obviously filled with fans of NASCAR, golf, football, etc.—skews more right than left. Truth is, the network bends over backwards to to avoid being political in any fashion (especially since the failed Rush Limbaugh experiment back in 2004), which is the smart play. After all, there are plenty of other places on the remote to find political opinion, and why risk alienating more than half your audience who isn't there for that kind of commentary in the first place?
Having said that, Olbermann—despite his obvious talent and being the guy who (along with Patrick) created the tone and attitude mimicked by dozens of SportsCenter anchors since—would only be an asset to ESPN if, if…he can resist turning his new show into Countdown 3.0. His new contract reportedly prohibits him from talking politics, but when has Olbermann ever played by the rules? And if he doesn't comply, does ESPN really want the PR nightmare that MSNBC and Current experienced by challenging him publicly? One can only guess…
B) Money: His latest contact with Current was something you would see for a modern-day athlete: 5 years, $50 million. MSNBC paid him $8 million/year. ESPN, always aware that the exposure and prestige it provides on-air talent helps keep most salaries down, likely (just a guess) isn't going near $10 mil/$8 mill/year for Olbermann. Then again, perhaps the 54-year-old was willing to take less just be in the game again. Know this: Keith has never really been about the money, never really was. No wife, no kids, nothing that would indicate an expensive Kardashian-kind-of-lifestyle. With the money he's already earned, there's no need for him to iron his own shirts at this point. Instead, Olbermann is still about making an argument, picking a fight, stirring the pot, and drawing attention to himself as the smartest wiseass in the room. The exposure that comes from all of it is the most valuable currency to him…
So is Olbermann's career as a political pundit over? He didn't exactly bring that audience with him to Current (about 200,000 viewers on average overall per show, or about one million less than what he averaged at the end of his MSNBC career). But in fairness, the-soon-to-be-extinct Current is harder to find on the dial than Oprah's network. And as we've seen with the flawless Glenn Beck-to-The Five transition, loyalty to a network narrative far outweighs individual talent loyalty. Perhaps, at least from a political opinion perspective, MSNBC was the only true home for Olbermann's brand. And as one executive at the network recently told me before the ESPN signing, Olbermann back on the Lean Forward network ain't ever, ever going to happen (for what it's worth, that's what ESPN once said, too).
You may not agree with his political positions, but it's hard to argue against his ability in front of a camera.
Bridges can be repaired.
Even napalmed ones.
Love him or hate him, Keith Olbermann is back.
Again.
—–
Follow Joe Concha on Twitter @ConchSports
Have a tip we should know? [email protected]