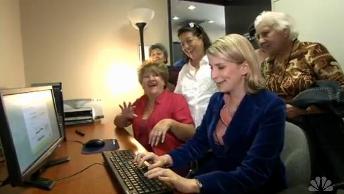 The Jay Leno Show has dropped in the ratings since it premiered September 14, and the storylines have largely hinged on the fact that its very similar to his version of The Tonight Show.
But now that we're into October, it was time for the host to shake things up. How about Twitter? And old people? Let's see how it went.
Jay Leno Show correspondent and comedian Liz Feldman led the "Old School" segment, which essentially was a class for senior citizens about Twitter. The jokes were somewhat predictable. There was one woman using the words "twattered" and "tweetered". One person, when asked who she wanted to follow, responded "Bernie Madoff." One woman wanted to her handle to be "PassionInBurbank" – Feldman thought she was looking for a date.
Here's one exchange:
Liz: It's time for you to send your first Twitter. And remember this sets the tone for the rest of your Twitters.
Barbara: "When is that economic crisis going to over?"
Liz: That's a bummer.
Barbara: It's a question.
Liz: Yeah. Okay I'm just going to add a little 'LOL' at the end just to lighten it up.
In a way, it seemed like a "Jaywalking" segment, only in front of a computer and where the clueless individuals were 65 and over. But Leno attempting Twitter jokes, to whatever level of success was achieved, was a sign the host and the show were looking to the younger crowd.
NBC's 12:30 host, Jimmy Fallon, is actually on Twitter. And he has over two million followers. NBC's 11:30 host, Conan O'Brien, has a pretty successful Twitter Tracker segment. Now Leno has gotten in the mix – albeit, through the lens of senior citizens.
Here's the whole segment:


—–
» Follow Steve Krakauer on Twitter
Have a tip we should know? tips@mediaite.com