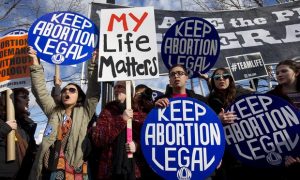 Campaign season for the 2016 election feels like a lifetime ago, and not just because of all of the unexpected twists and turns of events — namely a Trump White House — but because many of the campaign promises Trump spent 2015 and 2016 hooting and hollering about have faded to obscurity under his presidential administration. Don't get me wrong — he's taken plenty of steps in this short amount of time to hurt everyday American lives, namely in whom he appointed to his cabinet, but his administration is otherwise having a serious productivity problem.
This might have something to do with his base starting to pull its support a dangerous little bit.
In either case, there's no wall between the U.S. and Mexico, Obamacare hasn't been repealed, he's repeatedly tried to gut Medicaid, Hillary Clinton isn't in jail, ISIS hasn't been obliterated, Common Core stands untouched, and so on, and so forth. But on one issue — that being reproductive rights — Trump has stayed dishearteningly faithful.
In April of 2016, Trump suggested hurling us all back to a time when women were dying in alleys because they had no access to safe, legal, abortion, by instating laws to punish women for having abortions. He later backtracked a little bit, but characteristically never apologized, and ever since becoming President, the majority of his albeit very few political victories have all involved reproductive rights.
A quick lookback:
And recently, according to a new Rewire report, Trump is outpacing his predecessors in appointing federal judges, many of whom Rewire reports align with the firmly anti-abortion stance of Justice Clarence Thomas. Federal judges are the ones who make many of the final decisions about abortion and women's health clinics, from until what point women can legally have abortions, to policies affecting rape victims, to laws that shut clinics down by the dozen and entrap women.
Trump's most recent appointment, Kevin Newsom from Alabama, formerly wrote a blog post comparing the Roe v. Wade decision to legalize abortion on a federal level to slavery.
On the campaign trail, Trump decisively said that he would consider Supreme Court nominees with firm "pro-life" records, hinting at a potential repeal of Roe v. Wade. While the likeliness of a decision this dramatic being reached is relatively dim, federal judges who loathe abortion can do much from the various circuit courts across the country to diminish access, and enable cruel attacks on women's health clinics.
So, what does it all mean? Anti-abortion judges could mean defunded reproductive health clinics offering contraception and education, which will then likely lead to mean more unintended pregnancies, which will then inevitably lead to more abortions. At the end of the day, it may be a "political victory," but in reality, it's just a lose-lose situation for everyone.
This is an opinion piece. The views expressed in this article are those of just the author.