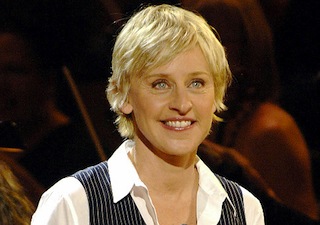 Guys, I'm worried. Today, in an interview with Christian news site One News Now, Monica Cole, the director of the family values and competitive number exaggeration group One Million Moms announced that they have halted their campaign to get Ellen DeGeneres fired as JCPenney's spokeswoman and will now focus on "other issues." Why am I worried? Well, if OMM has stopped putting their effort in one of the most of the most pressing issues of our time, Ellen selling pants, that clearly means that something even more horrible is threatening our nation! What could it be? I can only imagine the worst! Is Neil Patrick Harris selling toasters somewhere? Is Lance Bass ruining our children by telling them how much he likes Dr. Pepper?! The mind reels!
Oh, wait. Actually, according to Cole, One Million Moms actually is suspending their campaign to get Ellen fired because it was totally successful. Except for, y'know, the whole Ellen getting fired thing.
From One News Now:
"Cole believes OneMillionMoms has done its job by educating members about the retailer and urging them to take their business elsewhere. She says only time will tell how business goes for JC Penney.
'Everyone works hard for their money, and they want to spend their money with companies that have the same values as them,' Cole explains. 'And JC Penney stated that Ellen DeGeneres shares the same values that they do. So obviously, it's not the same as Christians or conservatives, which is unfortunate [because] JC Penney was founded by a Christian man.'"
Well, good for One Million Moms. I'm glad that they have the courage to withstand attacks from the likes of notorious liberal Bill O'Reilly and the notoriously combative writers of Archie Comics and keep fighting.
So, God speed, One Million Moms! May there be many successful failures in your future!
(h/t the den of iniquity that is GLAAD)
Have a tip we should know? tips@mediaite.com