Online Fury After Brian Williams Says Obama Used 'Richard Pryor Delivery' in Speech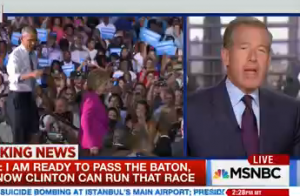 Today on MSNBC, Brian Williams was telling his viewers about President Barack Obama making his first campaign stop with Hillary Clinton. In between touching on the satellite feed outages experienced by the network and Obama's pointed jab at Donald Trump's social media use, though, he said one thing that really shocked people.
He compared Obama's delivery to that of Richard Pryor, the much-awarded but highly controversial comedian.
Shortly thereafter, he began trending on Twitter as users took him to task for the comparison.
Brian Williams refers to Richard Prior while summarizing Prez Obama's wrap up proves his white privilege and ineptness.

— Rick Jenkins (@Rickiejay) July 5, 2016
OK now this just too mush! Brian Williams like who tha hell you think you are? #OMMFGDWAWSOS

— Sammy Davis, IV (@FiscalSammy) July 5, 2016
Brian Williams, comedy historian.

— Tim Duffy. (@TimDuffy) July 5, 2016
"Richard Pryor delivery"? Really, Brian Williams? What the fuck does that mean?

— Terrell J. Starr (@Russian_Starr) July 5, 2016
Someone says "preach" during President Obama's speech & Brian Williams' mind turns to Richard Pryor. I can't stop thinking about this. #wtf

— IndependentVoter (@KGvote) July 5, 2016
I actually supported Brian Williams when he was caught lying, felt his suspension was unfair, until he decided to disrespect @POTUS

— Corey B. King (@coreybking) July 5, 2016
@MSNBC Did you just let Brian Williams make a racist remark about POTUS on air? Seriously? How dare you!

— Ellen Wilber (@Ellen60) July 5, 2016
Brian Williams likes to get drunk before he does the news

— I. Maria Jones (@mariaj81) July 5, 2016
@boldandworthy @cherokeesher2 Brian Williams, SIT DOWN! pic.twitter.com/HI758headI

— Nuthan Shetty (@NuthanShetty) July 5, 2016
Comparing the speech of the nation's first black president to that of a man whose Wikipedia page include an entire section dedicated to the "freebase cocaine incident" wasn't a smart move. The words "bigot" and "racist" are all over Williams' trend on Twitter.
He has not yet responded but if he does, we'll let you know.
[image via screengrab]
For more from Lindsey, try Twitter or Facebook.
Have a tip we should know? tips@mediaite.com