Oops: Media Mocks Palin for Speech Line That Was Actually Quoting Someone Else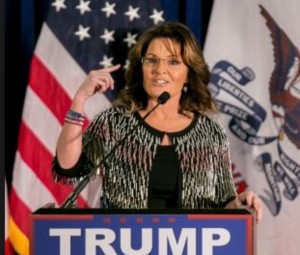 When media outlets piled on the mockery of Sarah Palin's endorsement speech of Donald Trump, some accidentally mocked her for paraphrasing what was actually a popular motivational quote.
Here's the part of the speech in question:
"He is from the private sector, not a politician. Can I get a 'Hallelujah?' Where, in the private sector, you actually have to balance budgets in order to prioritize, to keep the main thing the main thing. And he knows the main thing: a president is to keep us safe economically and militarily. He knows the main thing, and he knows how to lead the charge.
The constant repetition of the vague phrase "the main thing" earned the scorn from outlets like The Huffington Post, Mic, and The New York Times. The Guardian's take was typical: "Once 'Make America Great Again' becomes passe, the new Trump campaign slogan will be, 'Donald Trump: He Knows the Main Thing … and Knows How to Keep It,'" they snarked.
But while that might sound like a garbled Palin quote, Washington Examiner correspondent (and Mediaite alum) Eddie Scarry points out it's actually an allusion to the self-help bestseller The 7 Habits of Highly Effective People.
"The main thing is to keep the main thing the main thing," author Stephen R. Covey quipped. The meaning of the folksy quote is of course that you should focus on the most important things in life and avoid distractions.
How popular is Covey's work? 25 years after publication, 7 Habits is still ranked on the Amazon bestsellers list, even above topical books like The Martian and (gasp!) The Art of the Deal.
That isn't to say Palin wasn't incomprehensible or confusing at other parts of the speech. But hey, stopped clocks and all that.
[Image via screengrab]
[h/t Washington Examiner]
——
>>Follow Alex Griswold (@HashtagGriswold) on Twitter
Have a tip we should know? tips@mediaite.com