Oops: Someone Forgot To Let John McCain Know Romney Was Taking Credit For The Auto Industry Recovery
Someone Forgot To Let McCain Know Romney Was Taking Credit For The Auto Recovery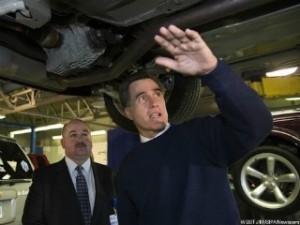 As Talking Points Memo points out today, presumptive GOP nominee Mitt Romney's relationship to the auto industry — and the government bailout that helped reboot it — is creating some problem with his supporters on Capitol Hill, who are both for Romney yet against the auto bailout for which Romney took credit yesterday.
One big name this has created a problem for is Romney supporter John McCain. TPM reports:
Romney said that he was responsible for the auto bailout?" asked Sen. John McCain (R-AZ) in disbelief, unaware that Romney had told a local affiliate in Ohio he should be credited for having saved the industry. "I'd have to look at the context of his remarks. I know that if the auto companies had gone into bankruptcy like thousands of small businesses had to do across America, they could've emerged without the sweetheart deal for the unions like was orchestrated by the Obama administration."
Awkward.
RELATED: Mitt Romney: 'I'll Take A Lot Of Credit' For Auto Industry Recovery
Romney, you'll recall, had penned an op-ed piece about the then-failing American auto industry, calling for a "managed bankruptcy." Now, he's taking credit for such a tactic having worked, adding that "I'll take a lot of credit for the fact that this industry's come back."
Another Romney supporter, South Carolina's Sen. Lindsey Graham, tried to explain how Romney's ideas differed from what the Obama administration put into practice:
"I think the idea of restructuring … look what happened to save the companies in question," he said. "Franchises were closed, efficiency was brought to the table. I think that's what Governor Romney was talking about in bankruptcy. That if you go into bankruptcy, you reorganize the company, you shed excess cost, you get leaner and you get more affordable. So in that regard it makes perfect sense that the model he was proposing is exactly what they did. What did they Obama administration do? They closed franchises. There was a big pushback up here. That made the companies more efficient."
h/t TPM
Have a tip we should know? tips@mediaite.com