Elizabeth Warren May Share Lineage With Militia Member Implicated In Run Up To Trail Of Tears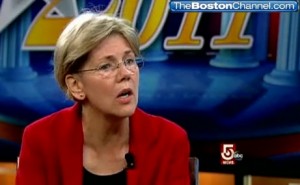 Massachusetts Democratic Senate candidate Elizabeth Warren has been fending off fallout recently after it came to light that she had listed her heritage as Native American for nearly a decade. After studious hours of genealogical study, the Warren campaign declared that her great, great, great grandmother was in fact a Cherokee making Warren 1/32nd Cherokee. Well, Legal Insurrection's William A. Jacobsen writes that he genealogical knife cuts both ways – he says Warren is also related to a militia member who participated in the roundup of Native Americans ahead of the Trail of Tears. If Warren is 1/32nd Native American, she is also 1/32nd atrocity committer – try getting an educational grant for that.
RELATED: Joe Scarborough And Mika Brzezinski Have Tense (Yet Hilarious) Argument Over New Elizabeth Warren Ad
Since confirming this genealogical information was outside my comfort zone, I forwarded the information to author and genealogist Michael Patrick Leahy, who already had written about and investigated Warren's genealogy.

Leahy reaches the conclusion, based on a variety of sources, that Jonathan Crawford was indeed a member of the militia which rounded up Cherokees in the prelude to the Trail of Tears.

Leahy lays out the evidence supporting his conclusion in a post at Breitbart.com, Elizabeth Warren Ancestor Rounded Up Cherokees for Trail of Tears:

"But the most stunning discovery about the life of O.C. Sarah Smith Crawford is that her husband, Ms. Warren's great-great-great grandfather, was apparently a member of the Tennessee Militia who rounded up Cherokees from their family homes in the Southeastern United States and herded them into government-built stockades in what was then called Ross's Landing (now Chattanooga), Tennessee—the point of origin for the horrific Trail of Tears, which began in January, 1837."
In my view, this episode could be a problem for the Warren campaign and, facing a moderate Republican who is liked by most and hated by few and makes half-court baskets (albeit, after five attempts), she has squandered her early advantages and now could face an uphill battle to win back Sen. Ted Kennedy's seat for Democrats in the fall.
Have a tip we should know? tips@mediaite.com