Lt. Dan Choi Chains Himself To White House Gate To Protest DADT, Kathy Griffin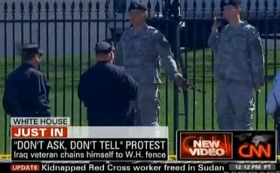 Gay rights activist and Army reserve officer enlisted soldier (still, though maybe not for long) Lt. Dan Choi attended a Human Rights Campaign-sponsored protest today during what was supposed to be a peaceful (and, given Kathy Griffin's presence, lighthearted) protest against the military's Don't Ask Don't Tell Policy. Apparently, exasperated by the protesters' attitude, Lt. Choi and fellow soldier Capt. Jim Pietrangelo chained themselves to the fence of the White House and have since been arrested for their civil disobedience.
The backstory seems to be that Kathy Griffin was meant to headline and host the event, and when Lt. Choi asked for permission to speak, he was declined (for reasons unclear…why wouldn't you want to have this man talk at your rally?). According to the gay news blog Towleroad, "Choi took the stage anyway, told Griffin 'Don't Ask, Don't Tell' is not a joke, and announced that he was marching to the White House. Choi then began leading hundreds to 1600 Pennsylvania Ave." When he got there, he chained himself to the White House gates with his fellow soldier. It didn't take long for the police to remove and arrest them.
Press Secretary Robert Gibbs confirmed that the White House was not notified that Lt. Choi was intending to act in such a way, and reports seem to indicate the event organizers had no idea, either. Lt. Choi may come out of the incident on the wrong side of the Human Rights Campaign, Kathy Griffin, and law enforcement, but he and Capt. Pietrangelo proved they are serious about the cause. Beyond themselves, they legitimized the repeal of DADT as a civil rights issue rather than a liberal pet cause, one that Americans are ready to make sacrifices to resolve.
Rick Sanchez soberly narrated the soldiers' arrests as they were removed from the gates earlier today (and below, Gibbs' response to the news):

Have a tip we should know? [email protected]