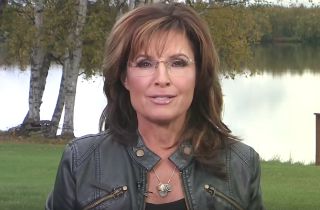 In the widely-circulated Saturday Night Live skit from last weekend that depicts Sarah Palin endorsing Donald Trump, Tina Fey's Palin joked, "Thank you, Iowa! I wanted to take a break from my full-time career of writin' things on Facebook to fly down here…" Today, real-life Palin proved that it's possible to maintain her status-writing career as a side hobby, even when putting in long hours endorsing presidential candidates.
In a lengthy spiel posted to the social networking site, the former Governor of Alaska and reality television sensation addressed the media directly to commend Trump's decision not to attend the GOP debate tonight. Using scare quotes around the word "journalist" multiple times, Palin went on the attack regarding "the government and media establishments' politics of destruction."
In case it wasn't immediately clear that she was shading Fox News and Megyn Kelly, the former Fox contributor added a postscript about "a debate host [who] made him or herself the principal in a story they're expected to objectively cover for the edification of the public." She said it's "common sense" that Kelly should have "humbly" stepped aside and let someone else moderate the debate.
Palin used evocative words and phrases. "Candidates speaking directly with us is what we've craved," she gushed. "Feel free at last, electorate!" The post lacked the all-caps detours and arbitrary capitalization that she and her daughter are known for, so there is a good chance that since she jumped on the "#TrumpTrain," she is leaving her former writing style behind.
Heads are spinnin'. Media heads are spinnin'.
You can read the whole thing below:
[image via screengrab]
For more from Lindsey, follow her on Twitter.
Have a tip we should know? tips@mediaite.com