Palin Exacts Her Revenge Against Tina Fey and It's Actually Pretty Damn Funny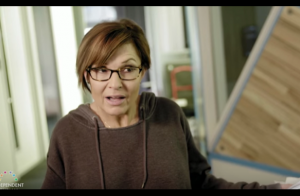 The minds behind Independent Journal Review have created a series of memorable, if not extremely bizarre, videos this year starring many of the GOP Presidential candidates. Who could forget the other famous episodes of the installment, like the one of former longshot candidate Lindsey Graham smashing his cell phone or Ted Cruz cooking bacon on a machine gun? They're often so strange, you would think they were video concepts from The Onion with stand-in UCB actors portraying the candidates.
Well IJReview has given to the world their newest video, and this one stars former Vice Presidential candidate Sarah Palin in what may be the best one yet. During the 2008 campaign, Tina Fey's portrayal of the Alaskan Governor on Saturday Night Live was arguably more memorable than the candidate herself. Fey even returned to Studio 8H this weekend to play Palin again. And just in time: Palin stars in the newest IJR video in a parody of 30 Rock called "31 Rock", in a video that cameos the aforementioned Graham and even Palin's '08 running mate John McCain.
Palin plays Liz Melon (a slight departure from Fey's Emmy-winning character Liz Lemon) and McCain stands in as a pseudo Jack Donaghy. 30 Rock's own Kevin Brown, better known as Dot Com, also plays opposite Palin in the parody, which is complete with several pretty great impressions of Fey's character.
All things considered, this is arguably the best of the IJR videos made yet, and it's pretty cool to see Palin exercise her comedy chops at the expense of the legendary NBC comedy. Not to mention that it's hard to imagine a better casting choice for Kenneth the Page than Lindsey Graham.
Check out the above video from YouTube.
Have a tip we should know? tips@mediaite.com