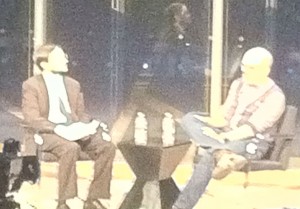 Who: David Cross, interviewed by Dave Itzkoff
What: New York Times Arts & Leisure Weekend (January 5-8, watch the livestream)
Where: The Times Center
When: January 5, 2012
Thumbs: Up
When asked to pick his favorite means of artistic expression, David Cross selected stand-up comedy. As opposed to other comedy, he said that stand-up comedy was his own true voice without his ideas having to be filtered through anything. That's what the assembled crowd was privy to in his talk with New York Times reporter (and, clearly, big fan) Dave Itzkoff. Cross, while taking the audience on a tour of his career, was affable and hilarious, answering each question with a joke before actually addressing it.
Cross discussed his involvement in the "alt comedy scene" – a label he says he has grown to accept – in Boston, his writing jobs from The Ben Stiller Show (he said the The Legend of P.J. O'Pootertoot was the only sketch he could claim as his own) through Mr. Show with Bob and David and The Increasingly Poor Decisions of Todd Margaret, and his acting career, spending the most time on Arrested Development.
Cross was quick to denigrate many of his own credits. He said that he doesn't get satisfaction out of one-off roles or guest starring, and that many of his movies are done for paychecks. At the same time, he wildly adores the projects he loves. He described writing with Bob Odenkirk on Mr. Show as "effortless" and said that he realized immediately that Arrested Development was special, and the entire cast appreciated it as it was happening.
What They Said
"It is a genius idea… It is so good. Awesome idea. Cannot wait."
– David Cross is as into the Arrested Development as the rest of the internet, but also will offer as many details as the rest of the internet will

"The chicken pot pie thing blows my mind… It's a phenomenon… I finally saw it and I'm like- why? I don't get it"
– David Cross doesn't enjoy one of the Panel Nerds' favorite David Cross guest roles
"I don't think he's a pathological liar… he's an infuriating fool… he's dumb but he means well."
– David Cross has a charitable view of Todd Margaret

"I moved to L.A. to make enough money to move away from L.A."
– David Cross enjoys going on stand-up tours

"I'm just dying to know what episode 53 is going to be"
– David Cross on why he is "rooting" for Work It to succeed

What We Thought
The penultimate audience question was asked by a well-built tattooed man in a ski hat who told David Cross that, in 2004, he had used his apartment for a shoot, peed with the door open, farted audibly and insulted his vegetables ("Why buy new vegetables when your old vegetables could just grow new vegetables?"). He then followed it up with "Is that your general attitude? Does it ever get you in trouble?" It was a hilarious anecdote, perfectly said, all while at the same time being slightly and vaguely threatening. Cross handled it well and the audience loved every moment.
David Cross said that writing Will Arnett's outrageous character in The Increasingly Poor Decisions of Todd Margaret is the most fun he has ever had writing for any character. Some of the things they'd have Arnett say would disturb him to the point that he'd apologize to his female co-stars at the end of his scenes.
We thought it was interesting how quick Cross was to insult some of his projects and their audiences. He's… honest. We'll give him that.
PANEL RULES!
Some audience behavior seems to repeat itself panel after panel. We'll be updating a running list of "PANEL RULES!" that will help ensure that you are not the dweeb of the Panel Nerds.
Panel Nerds don't like…Occupy Microphone
The venue will invite you to ask questions. There's no need to stand at the microphone beforehand. And if you're asked to sit down… there's really no reason to do it twice.
Have a tip we should know? tips@mediaite.com