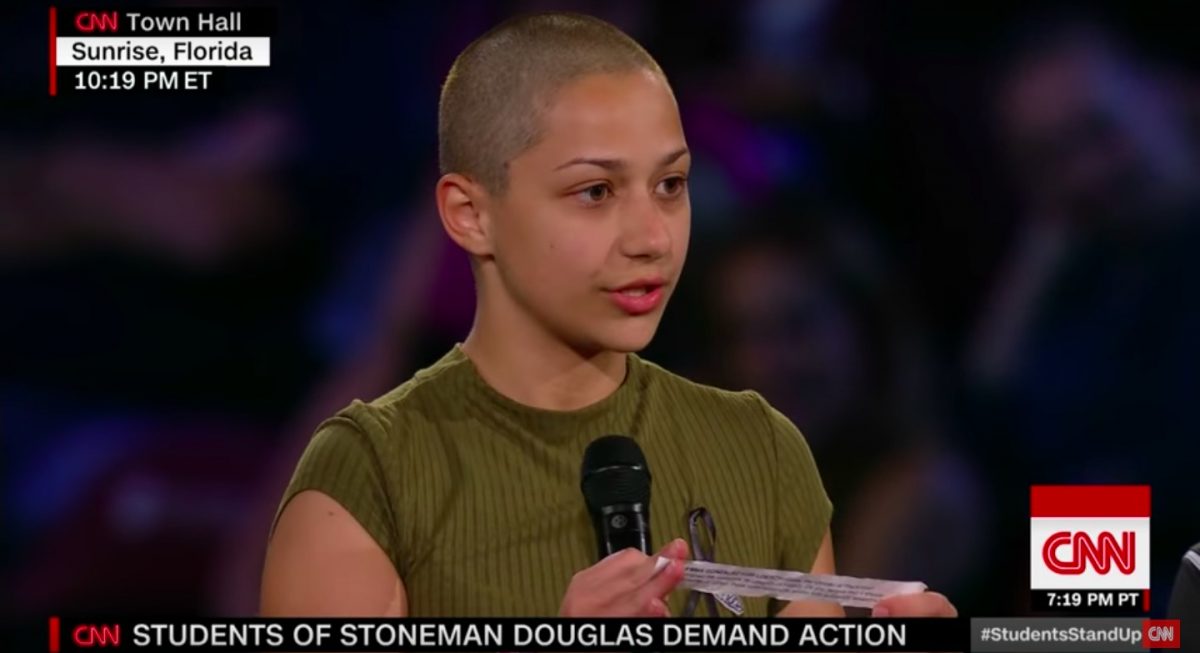 The deadly shooting at Marjory Stoneman Douglas High School in Parkland, FL happened on February 14. Today is February 26. And Emma Gonzalez, a survivor who has emerged as one of the breakout gun control activists in the wake of the shooting, has more Twitter followers than the NRA – by a long shot.
At last count, Gonzalez had approximately 971,000 Twitter followers, while the NRA had 586,000 followers.
Gonzalez became a central figure of the teen-led gun reform movement when she gave a speech repeating the phrase "We Call BS," referring to lawmakers who don't acknowledge the role guns play in mass shootings.
She also took on NRA spokeswoman Dana Loesch at the CNN town hall Wednesday. As the crowd tried to boo Loesch out, Gonzalez quieted them by saying: "If I can't hear her statement, I can't come up with a rebuttal."
Twitter users – including Beau Willimon, the creator of House of Cards – were quick to point out Gonzalez's meteoric rise on Twitter, applauding her and her classmates:
As of today, @Emma4Change now has more followers than the @NRA. It happened in less than two weeks.

This is a movement.
This is the future.
Change is now. pic.twitter.com/8yHSpq9Zac

— Beau Willimon (@BeauWillimon) February 24, 2018
Shoutout to @Emma4Change who has amassed more followers than the @NRA.

A kid calling for sensible gun reform has outnumbered the entire NRA—in just 10 days.

— William "Cancel Amazon Prime" LeGate (@williamlegate) February 24, 2018
Yesterday, @Emma4Change gained more followers than the @NRA.

Today, she gained more followers than @DLoesch.

All in less than two weeks.

Change is coming. pic.twitter.com/Jo9TnoTjDQ

— Brynna Quillin (@brynnaquillin) February 25, 2018
Emma Gonzalez now has more followers than the NRA:@NRA: 550k@Emma4Change: 551k (and counting)

This is what happens when you speak truth to power. We are witnessing history. pic.twitter.com/Zj2m262k44

— Mikel Jollett (@Mikel_Jollett) February 24, 2018
Follow @Emma4Change and help her surpass @NRA's follower count today. She's now over 500K and climbing fast. NRA is at 546K.

Imagine the humiliation of the NRA having less of an audience than their sharpest teenage critic who only entered the public eye less than two weeks ago.

— Adam Best (@adamcbest) February 24, 2018
The @NRA Twitter account of 9 yrs has 583,000 followers.

Emma Gonzalez's (@Emma4Change) Twitter account of 10 days has 940,000 followers.

The NRA spent millions to convince Politicians to support them.

Emma Gonzalez just spoke her mind, and won over the hearts of millions!

— Ed Krassenstein ? (@EdKrassen) February 26, 2018
Times are changing… @Emma4Change has amassed nearly double the amount of followers the @NRA has and her Twitter account is 12 days old!

— Muck Maker (@VoteMuck) February 26, 2018
[image via screengrab]
Have a tip we should know? [email protected]