Pentagon, Wal-Mart: 'Jade Helm' Not a Takeover Mission; Ted Cruz, Chuck Norris Not So Sure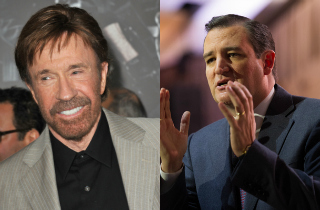 The U.S. Pentagon assured a nervous corner of the Texas public that the upcoming military training operation Jade Helm is not a hostile takeover attempt.
The worry over Jade Helm has been growing on fringe right-wing websites that warn it is either a dry run or an actual attempt to subdue dissidents in the American southwest under martial law. Theories range from the use of Wal-Mart as concentration camps for American citizens to a potential effort to create a global police force, and so forth. The exercise has already been canceled in two Texas counties after complaints from residents.
Both the Pentagon and Wal-Mart have denied any ill intentions.
"Jade Helm is a long planned and coordinated exercise," Pentagon spokesman Col. Steve Warren said Monday, per CNN. "We are not taking over anything."
Wal-Mart also issued a statement Monday saying there were "no truth to the rumors."
Nonetheless, a growing number of lawmakers and conservative cultural figures are airing their suspicions. The drumbeat got loud enough last week that Texas Governor Greg Abbott assigned the state guard to "monitor" the activities of the military during the exercise.
"My office has reached out to the Pentagon to inquire about this exercise," Senator Ted Cruz (R-TX) told Bloomberg. "We are assured it is a military training exercise. I have no reason to doubt those assurances, but I understand the reason for concern and uncertainty, because when the federal government has not demonstrated itself to be trustworthy in this administration, the natural consequence is that many citizens don't trust what it is saying."
Chuck Norris has also raised fears of the training exercise:
Concerned Texans and Americans are in no way calling into question our brave and courageous men and women in uniform. They are merely following orders. What's under question are those who are pulling the strings at the top of Jade Helm 15 back in Washington. The U.S. government says, "It's just a training exercise." But I'm not sure the term "just" has any reference to reality when the government uses it.

…I have an idea: If the government insists on running expanded military ops across seven Southwest states, why doesn't it move all that "military training" south and protect our borders at the same time?!

Whatever Jade Helm 15 actually is, I think it is more than coincidental that the FBI director just confessed in February that the presence of ISIS can be felt in all 50 states of the U.S. and that the Pentagon is suddenly running its biggest military training exercise with every branch of the military across seven Southwestern states. Whether deterrence, display of power or something more covert or devious, let's not come with any patronizing nonsense of impotence and simplicity when its origin is in Washington.
Former state representative Todd Smith (R) bashed Abbott for inflating the issue. "I am horrified that I have to choose between the possibility that my Governor actually believes this stuff and the possibility that my Governor doesn't have the backbone to stand up to those who do," he said.
UPDATE 2:09 p.m.: Representative Louie Gohmert's (R-TX) getting in on the fun, writing in a statement:
Once I observed the map depicting 'hostile,' 'permissive,' and 'uncertain' states and locations, I was rather appalled that the hostile areas amazingly have a Republican majority, 'cling to their guns and religion,' and believe in the sanctity of the United States Constitution. When the federal government begins, even in practice, games or exercises, to consider any U.S. city or state in 'hostile' control and trying to retake it, the message becomes extremely calloused and suspicious.

Such labeling tends to make people who have grown leery of federal government overreach become suspicious of whether their big brother government anticipates certain states may start another civil war or be overtaken by foreign radical Islamist elements which have been reported to be just across our border. Such labeling by a government that is normally not allowed to use military force against its own citizens is an affront to the residents of that particular state considered as 'hostile,' as if the government is trying to provoke a fight with them.
[Image via Jaguar PS / Shutterstock.com / Christopher Halloran / Shutterstock.com]
——
>> Follow Evan McMurry (@evanmcmurry) on Twitter
Have a tip we should know? tips@mediaite.com