People Are Already Creating Fake Profiles For Protester Who Caused Trump to Be Hauled Off-Stage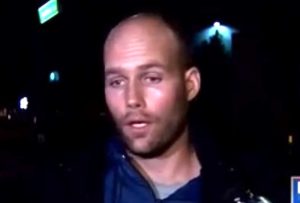 By now, you probably know that last night, Donald Trump was hauled off-stage by the Secret Service as he spoke to a rally crowd in Reno, Nevada. Twitter immediately exploded with speculation after it was revealed that the security agents leapt into action after someone yelled something about a gun. Was it an assassination attempt? Was it a hoax?
In spite of Donald Trump Jr. and Dan Scavino retweeting that it was an assassination attempt (which led to a confrontation between campaign manager Kellyanne Conway and CNN's Jake Tapper) it has now been revealed that the man in the middle of it didn't even have a gun. Austyn Crites gave various interviews this morning and explained that he was just holding a protest sign, was attacked by rally-goers, and was grateful law enforcement pulled him from the fray before he lost his life to them.
He has thus far maintained that he is a Republican who doesn't support Trump, but Internet users have taken it into their own hands to alter his reputation. Numerous fake Facebook profiles for Crites have popped up and they all seem designed to propagate the conspiracy theory that the left pays people to protest at Trump events. (There are no credible sources claiming that such things really happen, but there are plenty of fake news sites that say it.)

Maybe they're a joke or an attempt to troll Trump supporters. Maybe they're truly being made out of spite against Crites or a desire to upset Hillary Clinton's backers. It's hard to tell. Still, some of them are sort of imaginative.
Some are clearly only intended to be a source of news while the topic is still hot.

Although it was available earlier today as evidenced by screengrabs floating around online, the real Austyn Crites profile seems to have been disabled.
[image: screengrab]
Have a tip we should know? tips@mediaite.com