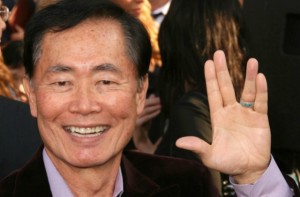 There was some big news in Hollywood today with confirmation by Star Trek's John Cho that the new film in the franchise depicts Hikaru Sulu as an openly gay man, in an apparent nod to the original Sulu actor and openly gay LGBT activist George Takei.
Well, it turns out that Takei is not a fan of the filmmaker's choice. In an interview with The Hollywood Reporter, "I'm delighted that there's a gay character. Unfortunately, it's a twisting of Gene's creation, to which he put in so much thought. I think it's really unfortunate."
In other words, Takei thinks that taking a character conceived by Gene Roddenberry, the creator of the original Star Trek series, and changing something so significant is a problem.
Takei said he advised the filmmakers to create a new character and make them gay.
Some people are confused by his reaction:
No disrespect to Takei, but characters change all the time. Kingpin was white in comics and then black in a movie. https://t.co/HI2HZiiGhP

— Scott Weinberg (@scottEweinberg) July 7, 2016
Takei doesn't want Sulu to be gay? CAN NOTHING MAKE SENSE??!

— Andy Hull (@andyhullbone) July 8, 2016
@TheAVClub @TheOnion Of course, the new timeline did change Khan from Arabic to a very white British guy

— Angus_BGM (@bertm1975) July 8, 2016
Honestly surprised at @GeorgeTakei's reaction. Wish I knew more about what's driving it. https://t.co/QaQ2LI5yMM

— J. Marcus Xavier (@JMarcusXavier) July 7, 2016
[image via Shutterstock]
— —
Follow Josh Feldman on Twitter: @feldmaniac
Have a tip we should know? tips@mediaite.com
Josh Feldman - Senior Editor