People in Queens Know Nicki Minaj and 50 Cent Are From Their Neighborhood But Not Trump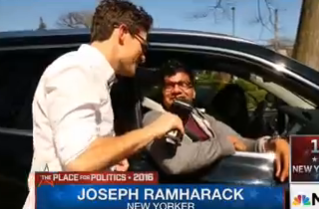 This morning, MSNBC was running a segment about where the New York-born presidential candidates were raised. The segment was meant to highlight the anticipation building in the state ahead of tomorrow's big primary, but what it really showcased was the priorities of some residents of the country's largest city.
Out in Jamaica Estates, Queens, Jacob Soboroff pointed out the F train's 179th Street stop, the subway station Donald Trump might have used while growing up in the neighborhood (if he ever used the subway). Then, he moved into a portion of the segment that had been pre-recorded and showed him talking to people from Jamaica.
After being told Trump had been raised in Jamaica Estates, Joseph Ramharack, who grew up nearby, stated emphatically that he wouldn't be voting for his former neighbor. Assemblywoman Nily Rozic told Soboroff that she never thought about Trump being from the area but wouldn't be voting for him since many of her constituents are immigrants. Saulo Villera did know that Trump grew up nearby, but said "hell no" when asked if he'd be voting for him, as did everyone else Soboroff spoke to, if not in such a colorful way.
Most interesting, though, was the answer given by one nameless interviewee on the platform inside the 179th Street station. When asked if he knew who had grown up there, he suggested, "Umm, I know that maybe… Nicki Minaj and 50 Cent, something like that?"
"Maybe there is something more important but I, uh, knew about them," he tacked on just before Soboroff told him about Trump.
Back in the studio, Steve Kornacki asked Soboroff who he thought was more important to pop culture between 50 Cent and Trump. Watch above to see what the field reporter had to say.
[image via screengrab]
For more from Lindsey, follow her on Twitter.
Have a tip we should know? tips@mediaite.com