Petraeus Testifies On Benghazi: Reference To Terrorism Was Edited Out Of CIA Talking Points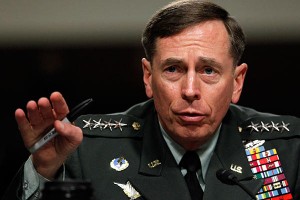 Former CIA Director David Petraeus testified on Friday that he believed from the beginning that the attack on the U.S. consulate in Benghazi, Libya was an act of terrorism, according to the Associated Press. In his testimony, he also said the CIA's talking points noted that assertion, but that it was edited out by other federal agencies.
Lawmakers said the CIA's talking points in response to the attack "referred to it as a terrorist attack," the AP reported, but "Petraeus told the lawmakers it was removed by other federal agencies who made changes to the CIA's draft." He said he did not know who removed the reference.
However, any changes made were not the result of an underlying political agenda, Petraeus told lawmakers in the closed-door sessions — but rather, made to protect classified information.
Per the AP:
''There was an interagency process to draft it, not a political process,'' [Rep. Adam Schiff (D-Calif.)] said after the hearing. ''They came up with the best assessment without compromising classified information or source or methods. So changes were made to protect classified information.

''The general was adamant there was no politicization of the process, no White House interference or political agenda,'' Schiff said. ''He completely debunked that idea.''

Schiff said Petraeus said Rice's comments in the television interviews ''reflected the best intelligence at the time that could be released publicly.''
Rep. Peter King (R-N.Y.) said Petraeus "thought all along that he made it clear there was terrorist involvement," but "that was not my recollection."
Petraeus has of course been dominating the news cycle due to his resignation, as a result of an extramarital affair with his biographer Paula Broadwell. That topic wasn't discussed during the hearings, save for an acknowledgment in the beginning.
Rep. Jim Langevin (R-R.I.) said, "The only thing he did in the beginning of his testimony is he did express deep regret to the committee for the circumstances for his departure."
(H/T AP via Boston Globe)
Have a tip we should know? tips@mediaite.com