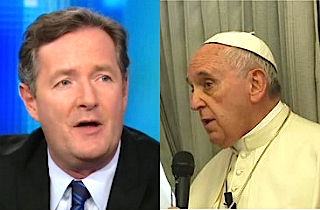 Pope Francis' comments about the attack on Charlie Hebdo have received a lot of criticism for those who believe his defense of free speech was not strong enough. But now, Piers Morgan has taken that criticism to another level by accusing the Catholic leader of "endorsing violence" against those who "make fun of faith."
"Today, the Pope, leader of the Catholic Church — of which I am a member — endorsed violence as a way to respond to insults," Morgan wrote in his Daily Mail column on Thursday.
"There are so many people who speak badly about religions, who make fun of them, who make a game out of the religions of others. They are provocateurs," Morgan quoted Pope Francis as saying from the Philippines, before revealing the "analogy which shocked me to the core."
"If my good friend Dr Gasparri says a curse word against my mother, then a punch awaits him," the Pope said. "It's normal. One cannot provoke. One cannot insult the faith of others. One cannot make fun of faith."
Morgan continued:
Here was my Holy Father, supposedly a man who espouses the philosophy of turning the other cheek, telling us all to whack someone in the face if they insult us.

Well, isn't that exactly what Al Qaida did in Paris, metaphorically speaking?

They claimed the Charlie Hebdo cartoonists had insulted their religion, and reacted with physical aggression. Albeit aggression of a deadly, despicable varity.

By the Pope's yardstick, weren't the Charlie Hebdo staff guilty of being the very 'provocateurs' that he says are unacceptable and thus worthy of violent response?
Later, he described the Pope's remarks on freedom of speech "ridiculous and dangerous" before concluding, "I don't want my Pope, or any religious leader, to ever endorse any form of violence for anything. Their job is to promote peace, and they should stick to it."
The Vatican has had to do some damage control in the hours since Pope Francis made his initial remarks on the subject. In a statement early Friday morning, a representative said, "Pope Francis has not advocated violence with his words on the flight," adding that his comments were "spoken colloquially and in a friendly, intimate manner among colleagues and friends on the journey."
Watch video of The Pope's comments below, via The Guardian:
[Photo via screengrab]
— —
>> Follow Matt Wilstein (@TheMattWilstein) on Twitter
Have a tip we should know? tips@mediaite.com