Pizza Hut Decides Product Placement During Presidential Debate Might Not Be A Good Idea After All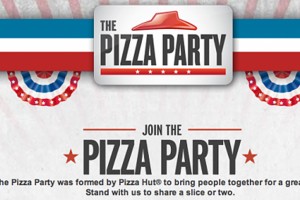 Remember last week when Pizza Hut offered free pizza for life to anyone at tonight's town hall debate who asks the candidates if they like sausage or pepperoni on their pizza? Well, the pizza chain decided that using a televised political event as an advertising tool might not be such a good idea after all, and is moving the contest to the internet instead. The stunt evolved overnight into a bit of a PR nightmare, with brand experts saying things like "Why muck up a debate with silly questions?" and "What a stupid idea."
RELATED: Pizza Hut Offers Free Pizza To Anyone Who Asks Obama And Romney Their Favorite Toppings At Debate
Pizza Hut's chief marketing officer, Kurt Kane, explained why they had the sudden change of heart.
"Some of the attention we received was not positive… So, we decided the question was better served online than in the debate itself."
Instead of getting one of the town hall participants to ask the question (which could hypothetically still happen if someone is courageous enough), Pizza Hut will let people vote on the "sausage or pepperoni" question online and a random winner will receive free pizza for life. The initial campaign make Pizza Hut the subject of much mockery, including a rather stinging segment by Stephen Colbert last week.
Of course, Pizza Hut hasn't learned its lesson entirely. Kane said that if he could rewrite the question, he would ask the candidates, "How are you going to make it great for Americans — like Pizza Hut does?"
[Image via]
—–
Follow Josh Feldman on Twitter: @feldmaniac
Have a tip we should know? tips@mediaite.com
Josh Feldman - Senior Editor