Police Dept Under Fire for 'Thank You' Billboard with Cop Under Investigation for Killing Man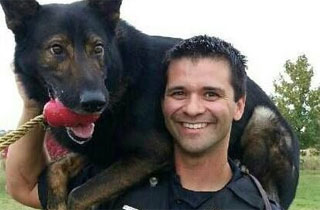 It's one thing for a police association to put up a billboard thanking the community for their support, particularly after one of their members was involved in two shooting incidents, within days of each other, that left one dead. It's another, worse thing for that billboard to include the smiling face of the cop that actually shot the men.
Such is the case of Kenosha, Wisc., home of a brand new billboard featuring a fluffy K-9 and Officer Pablo Torres, currently under investigation for shooting two men in the span of eleven days, killing one. Aaron Siler was shot and killed by Torres, days after Torres returned from administrative leave after shooting Terry Knight, a suicidal Vietnam veteran suffering from PTSD, in the stomach. Siler was on felony probation and had a parole warrant out for his arrest, and according to the police, had been chased by the police and acquired a weapon shortly before Torres shot and killed him.
The billboard, seen below, immediately sparked outrage in the city over its seeming obtuseness:
Kenosha killer cop (2 shootings,1 deadly,in 10 days) featured, celebrated, and thanked by police union on billboard. pic.twitter.com/M40v9x6VRR

— The Duke (@Raoul_Duke_West) April 22, 2015
It's slightly more off-putting when you realize that Torres has an extensive record of excessive force complaints and departmental reprimands.
In an interview with the Guardian, Kathy Willie, the spokeswoman for the family of the slain Aaron Siler, called the billboard "hurtful."
"To me that doesn't make the department look good," she argued. "What are they trying to say? Are they trying to say [Torres is] not guilty and they know that for a fact? Why are they thanking him?"
The local Kenosha News editorial board agreed:
The billboard, and events such as the Back the Badge rally in Pennoyer Park on Saturday, may be intended as support for law enforcement and appreciation for that support, but they could also be seen as attempts to intimidate people who might criticize the police.

There is an ongoing investigation of a fatal police shooting in Kenosha. Everyone — the cheerleaders for the police and the critics — ought to withhold judgment on this case until the results of that investigation are made public.
The Kenosha Professional Police Association, which paid for the billboard, said in a statement that the billboard was simply to acknowledge support from the city's residents: "We have been humbled by the outpouring of support the community has given us and we wanted to simply say thank you for that support."
[h/t The Washington Post]
[Image via Kenosha Police Department]
—
>> Follow Tina Nguyen (@Tina_Nguyen) on Twitter
Have a tip we should know? tips@mediaite.com