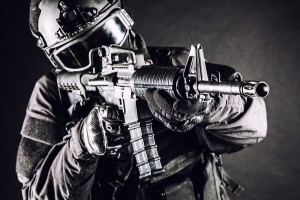 In the wake of President Barack Obama's call for the demilitarization of local police, as we asll the city of Cleveland's recent settlement with the Department of Justice regarding police misuse of force, the hope is such sweeping proposals will quickly enact the changes recent victims of police brutality will never see.
When (and if) such change happens, it will be too late for Justin Way of St. Augustine, Fla., who was shot and killed by two officers armed with assault rifles on May 11.
According to The Daily Beast, Way — a recovering alcoholic — had just been fired and was having a relapse. That's when his girlfriend, Kaitlyn Christine Lyons, found him drunk in bed and with a knife in hand. Way was threatening to kill himself, to Lyons called "a non-emergency number" suicide hotline:
"The only person Justin threatened was himself and I honestly don't think he wanted to die."

Minutes later, two St. Johns County Sheriff's deputies, 26-year-old Jonas Carballosa and 32-year-old Kyle Braig, arrived at the home, armed with assault rifles, and told Kaitlyn to wait outside.

"I thought they were going into war," she remembered thinking when she first saw the large guns. Within moments, Justin was shot dead.
The official report by Det. Mike Smith claims Way had threatened his girlfriend, and began threatening the officers who arrived on the scene. That's when they acted in self-defense. Lyons and Way's father, George, deny this. In addition, Way's mother, Denise, says the detective told her something very different in conversation:
"They told Justin to drop the knife and he didn't—so they shot him because that's what we do."
Det. Smith then explained to her the "suicide by cop" trend, suggesting this was Justin's motive the whole time.
The Daily Beast discussed the matter with Commander Chuck Mulligan of the St. John's County Sheriff's Office and asked whether or not assault rifles were necessary for a suicide call. Mulligan said yes, but only "if the deputies feel that that is the appropriate weapon system to use."
Lyons and the Ways are understandably upset at the situation, whereas the police stand by the actions of the two officers who responded. Meanwhile, after a little digging, the reporter found instances of similar incidents involving local law enforcement's violent responses to suicide threats and minor calls.
[h/t The Daily Beast]
[Image via Shutterstock.com]
— —
>> Follow Andrew Husband (@AndrewHusband) on Twitter
Have a tip we should know? tips@mediaite.com