Politico Piece Reveals Romney Campaign Trouble Swirling Around Top Strategist Stuart Stevens
Politico Piece Reveals Romney Campaign Trouble Swirling Around Top Strategist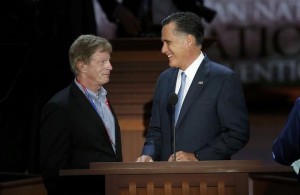 On Sunday, Politico published a piece revealing several roadblocks before the Romney campaign, including in-fighting among its players — particularly where Mitt Romney's top strategist, Stuart Stevens, is concerned.
"This article is based on accounts from Romney aides, advisers and friends," the article notes, "most of whom refused to speak on the record because they were recounting private discussions and offering direct criticism of the candidate and his staff, Stevens in particular."
In advance of this year's Republican National Convention, the article reveals, Stevens, "bypassing the speechwriting staff at the campaign's Boston headquarters," tapped seasoned speechwriter Peter Wehner to draft Romney's address. As with any high-stakes speech written in a short amount of time, there were some hurdles:
As the Tampa convention drew near, Wehner, now a "senior adviser" and blogger for the campaign, was laboring under an unusual constraint for the author of a high-stakes political speech. He was not invited to spend time with Romney, making it impossible to channel him fluently.

Nevertheless, Wehner came up with a draft he found pleasing, including the memorable line: "The incumbent president is trying to lower the expectations of our nation to the sorry level of his own achievement. He only wins if you settle." It also included a reference to Afghanistan, which was jettisoned with the rest of his work.
But, instead of using the Wehner speech, Stevens tapped two other experienced writers to come up with an entirely new draft of Romney's speech. As it turns out, only one paragraph of that draft was used at the RNC — the well-received anecdote Romney shared about his father's habit of leaving his mother a rose. The rest of the speech was, the article tells us, put together by Stevens and Romney themselves. That speech, readers will recall, eventually faced criticism for, among other things, not mentioning the troops or our ongoing presence in Afghanistan.
And, then, of course, there was the matter of Clint Eastwood's improvised, unvetted presentation, which ended up garnering the bulk of the media's, if not voters', attention as the convention came to an end.
Stevens, described as someone who is "not particularly ideological, and has a big-city, Hollywood aura that grates on movement conservatives," has "taken the brunt of the blame for an unwieldy campaign structure," says the article, noting that he is not only acting as the campaign's chief strategist, but also its chief ad maker and chief speechwriter.
And, as it turns out, there's another figure within the campaign who is leaving colleagues baffled as well:
But whatever Stevens's shortcomings, presidential candidates get the campaigns they want. And Romney, who in an interview with POLITICO last month said his leadership style very much centers on having a variety of smart people offering advice and him being the decider, has taken a very active role running his own campaign.

In a way, that's the problem. Romney associates are baffled that such a successful corporate leader has created a team with so few lines of authority or accountability.
h/t Politico
Have a tip we should know? [email protected]