Politico Reporter Ejected From Trump Rally Files Weird Third-Person Report About It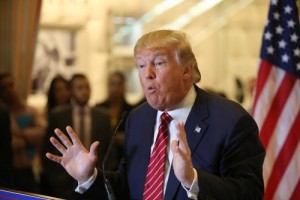 On Friday morning, a Mediaite editor learned that a Politico reporter had been ejected from a Donald Trump rally in San Jose, California, and the Mediaite editor wrote a report that was then read by a Mediaite reader. If that sentence sounds a bit tortured to you, then Politico's account of the ejection will be downright painful. If not for the fact that reporter Ben Scheckinger tweeted about it, you would never know from the report that it was Schreckinger who had been ejected, and that it was Schreckinger  who wrote the report:
A Donald Trump campaign staffer and a private security guard removed a POLITICO reporter from a campaign rally here on Thursday evening for reporting at the event without the campaign's permission.

A campaign staffer spotted the reporter typing on a laptop outside of the press pen at the San Jose Convention Center and asked the reporter, who was attending on a general admission ticket, if he had press credentials. The Trump campaign has refused to credential the reporter for multiple events.

The staffer said he would consult with his superiors and returned minutes later with a private security officer who instructed the reporter to leave the premises, escorting him out a nearby exit.
The piece goes on to say that the Trump campaign continues to deny credentials to the reporter.
The Trump campaign's fairly unprecedented war on the press has put reporters to an unprecedented test that they're failing. There's a hard and fast rule in journalism against making yourself the story, rigid adherence to which produces this sort of weird, passive-aggressive reporting. That rule may need to go out the window if Trump persists, and indeed, should have been discarded months ago. Reporters who have endured truly frightening mistreatment have, even when they do report it, mostly downplayed it in misguided deference to this rule, and perhaps to their own misguided sense of nobility.
In this case, though, these reporters are abdicating their primary responsibility to serve the public. When Katy Tur was repeatedly targeted by Trump from the podium at his rallies, instinct may have told her to tough it out and not make herself the story, but her news outlet's duty to inform the public should have overridden that. The public needed to get a thorough and diligent account of what she experienced at those rallies, because not only is it newsworthy on its face, it also impacts the way the public is served by its representatives in the press.
The same is true of Schreckinger. If he and Tur and others don't want to be the story, they can choose not to report what happens, except they can't. So when they're forced to be the subject of the story, then it should be handled the way it would be by any other profession in the world. You don't see surgeons operating on themselves. Tur and Schreckinger should have been interviewed by other reporters, who in turn should have gathered additional reporting on these incidents.
There's also a much more basic problem with this self-reporting dynamic, which is that it produces bad reporting. Reading through Schreckinger's account, I can think of a dozen basic factual questions he doesn't answer, and because he's the subject of sanction from the Trump campaign, there are a similar number of questions for them that don't get answered.
Other news outlets' reporters should also be reporting on these incidents, as well, but they don't do it either, partially because of the reasons mentioned above, but also because of a competitive dynamic. To make matters worse, it's doubtful that Tur or Schreckinger would be willing, or even allowed, to speak to a reporter from another news outlet.
If Donald Trump is going to continue his campaign of intimidation and incitement against the press, which he is, then reporters are going to need to fundamentally rethink the way they cover it.
Have a tip we should know? tips@mediaite.com