Politico's Newsroom Resembles The Hunger Games, According To Huffington Post Profile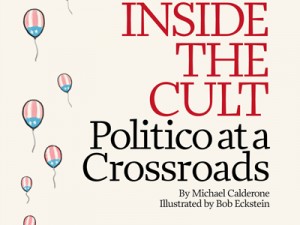 The Huffington Post's new iPad magazine, Huffington, released a story today giving us a glimpse into the offices of Politico. Written by former Politico staffer Michael Calderone, the piece takes a look at how Politico is at a "crossroads."
For now, at least, the story, "Inside the Cult: Politico at a Crossroads," is only available through the app, so lucky iPad owners can go read it in full. For everyone else, there are snippets. Including a reference to everyone's favorite dystopian young adult book. According to a former staffer, the organization's newsroom environment is reminiscent of The Hunger Games:
Politico staffers routinely talk of a Politico "star-system" in which a handful of reporters in the VandeHarris orbit receive preferential treatment from company leadership, while the majority are left drifting in a far off journalistic galaxy. One former staffer likens the newsroom to The Hunger Games, in which young people fight to the death for the enjoyment of a privileged class.
Sounds like fun!…for those in the "orbit," anyway. ("VandeHarris" refers to co-founder Jim VandeHei and editor John Harris.)
It's also apparently notoriously difficult to break free of Politico's contracts. But BuzzFeed's Ben Smith managed to do so last year. Business Insider narrowed down what they saw as the nine most important/interesting parts of the story. Among them:
Traffic is down from 4.229 million unique visitors in 2011 to 4.165 million so far this year.

Staffers are leaving in droves. "There have been so many departures lately that Politico editors have done away with the traditional going-away cake in the newsroom."
Not the cake!
(H/T Atlantic Wire; BI)
Have a tip we should know? tips@mediaite.com