Poll: Republican Voters Have a More Favorable View of Kim Jong Un Than Nancy Pelosi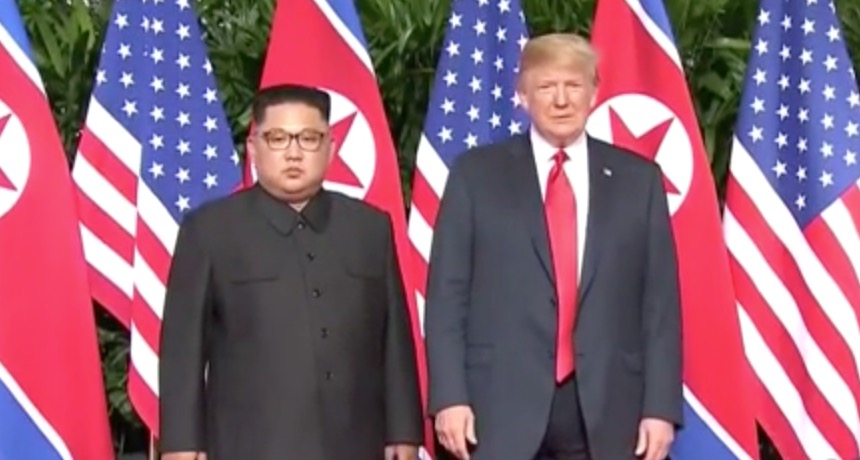 Voters who identify as Republicans hold North Korean dictator Kim Jong Un in a slightly more favorable view than they do Democrat Congressman Nancy Pelosi, per a new poll.
The survey, which was conducted by Ipsos on behalf of The Daily Beast, polled approximately 1,000 self-identifying Republican voters and found that — following Trump's summit in Singapore with Kim — 19 percent of GOP voters had a favorable view of the DPRK leader, while 17 percent of the same group saw Pelosi favorably.
However, Kim was deemed unfavorable by 75 percent of the group of Republicans, while Pelosi was deemed unfavorable by 72 percent of respondents.
This data comes after Trump repeatedly praised Kim following their historic summit, as he told Fox News that the dictator is "the strong head [of his country]" and added, "He speaks, and his people sit up at attention. I want my people to do the same."
Trump has also said that Kim is "a very talented man" and claimed that he "loves his country very much," despite murdering and starving an almost countless number of his own people.
Additionally, the president went on a monologue praising Kim in the same terms Trump uses to praise himself:
"He's a tough guy. When you take over a tough country, tough people, and take over from your father – I don't care who you are, what you are, how much of an advantage you have. If you can do that at 27 years old, that's one in 10,000 who can do that. He's a very smart guy, a great negotiator. But I think we understand each other."
[image via screengrab]
Follow the author on Twitter (@calebecarma).
Have a tip we should know? tips@mediaite.com