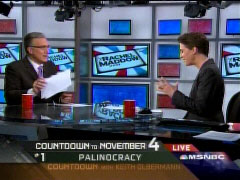 A new joint poll from Politico and George Washington University Battleground Poll about the upcoming midterms has a lot of expected results and one or two surprising ones. Here are the not surprising ones first. The country is angry with Obama ("only 38 percent of respondents said Obama deserves to be reelected") and increasingly uncertain about Sarah Palin.
Voters would back Obama over Palin if the [2012] vote were today, and support for her is weak in the Midwest and the Northeast. But Palin's problems run deeper: 58 percent said her actions since resigning as Alaska governor in 2009 have made them less likely to vote for her for president.
Also not surprising: Fox News hosts wield a great deal of influence over the political discourse in this country:
Bill O'Reilly was rated as having, by far, the greatest positive impact, with 49 percent of respondents rating him positively, and 32 percent negatively. Glenn Beck was the second most-positively rated personality, with 38 percent of respondents saying he had a positive impact, and 32 percent saying he had a negative impact.
Rush Limbaugh meanwhile is losing steam and far more people dislike him than like him (36%-52%). Here's the surprising part however: Very few people polled had heard of Rachel Maddow.
MSNBC's personalities were largely ranked as unknown by respondents: 70 percent said they had never heard of Ed Schultz, 55 percent said they had never heard of Rachel Maddow and 42 percent said they had never heard of Keith Olbermann.
Of course there is the old quality vs. quantity argument to be made in regards to Maddow and Olbermann (Schultz is obviously not a surprise). As in, the people who watch MSNBC (and this includes Morning Joe) tend to be the tastemakers and therefore their influence is hard to measure in polls such as these. Even so, the numbers are surprisingly low. Meanwhile, 34% of those polled said they'd never heard of Jon Stewart. Full results here.
Have a tip we should know? tips@mediaite.com