Poll: Twitter Account @LOLGOP Would Beat Actual GOP Congressman In Senate Race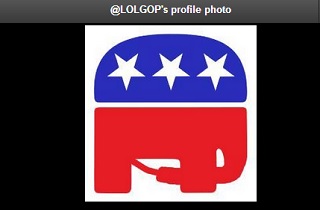 How do political reporters love Public Policy Polling? Let me count the ways. The Democratic-leaning (but dead-on accurate) is known for its sometimes quirky poll questions, as well as more straightforward surveys, but their newest effort combines the two. In their latest poll of Michigan voters, PPP found that the popular Twitter account @LOLGOP, a Republican-lampooning microblogger based in Ann Arbor, would defeat Rep. Justin Amash (R-MI) in a head-to-head matchup for retiring Sen. Carl Levin's (D-MI) seat.
The @LOLGOP Twitter account, at 144,000-plus followers and counting, is a popular spoofer of all things Republican who also goes by the nom de plume Pete Nicely, and contributes to the website Eclectablog.com. Despite his lack of tangibility, voters in Michigan prefer him to the flesh-and-blood Congessman Justin Amash. From PPP:
It is perhaps a sign of how dim GOP prospects in national elections are in Michigan that one of the party's leading potential candidates for the Senate next year would trail in a hypothetical match up with a twitter handle. The person behind the well known liberal twitter handle LOLGOP lives in Ann Arbor and we find that LOLGOP would lead Congressman Justin Amash 23/22 in a head to head match. That sort of climate for Republicans may be why it's been hard to get top tier candidates into the race for the open Senate seat there next year.
With 55% of Michigan voters still undecided, Rep. Amash does have some time to make up that slim one-point gap, at least until someone with a corporeal form gets into the race. Maybe Michigan Republicans should try and draft Twitchy.
In other results from the poll, PPP found that Michigan Republicans favor Sen. Rand Paul (R-KY), at 18%, over other GOP presidential hopefuls, with Sen. Marco Rubio (R-FL) placing fifth, at 11%. Former Secretary of Stata Hillary Clinton is still the Democrat to beat:
If Hillary Clinton's the Democratic candidate for President at least for now it looks like the state will remain firmly in the blue column. The only Republican who even comes within single digits of her is Christie, who still trails 44-38. The other 3 trail by margins closer to Barack Obama's 16 point margin of victory in 2008 than his 9 point victory from last fall- Clinton is up 14 on Bush at 51/37, 17 on Rubio at 53/36, and 20 on Paul at 55/35.
Have a tip we should know? tips@mediaite.com