'Poopfest': Richard Sherman Hates Thursday NFL Games as Much as the Rest of Us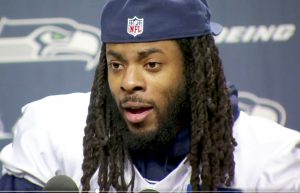 The NFL mandates that each team must play on Thursday Night Football once each season so that no one gains a competitive advantage from not having one short week of preparation during the year. This has resulted in a few absolutely hideous match-ups; Cardinals-49ers, Titans-Jaguars, Ravens-Browns. And now, Seahawks-Rams.
It's a dreadful match-up in which a lousy team that fired its coach off of a blowout loss, is traveling to Seattle on a short week where they will play on what is arguably the toughest home field in the league.
As it turns out, Seattle cornerback Richard Sherman — like much of the audience that is (or isn't) tuning into these games — isn't particularly fond of Thursday Night Football.
"Poopfest. It's terrible," Sherman said of the Thursday games during a Tuesday press conference.
"We got home like 1 o'clock in the morning, something like that on Monday and then you've got to play again."
The quick turnaround typically helps the home team — which is 10-4 on Thursday this season. (If you include the Thanksgiving games and discount the Dec. 01 Cowboys-Vikings game in which both teams were on full rest beause they played on Thursday the week before.) Moreover, many of the games are lopsided. Few have been compelling. And the quality of play just hasn't been as good across the board.
Most important is the issue of player safety.
"It's hypocritical, as I've stated before," Sherman said. "They make this huge stance about player safety. Then you put the players in tremendous danger."
Sherman added: "Congratulations, NFL, you did it again. But they've been doing it all season, so I guess we're the last ones to get the middle finger."
In point of fact, the Giants and the Eagles are "the last ones to get the middle finger." They'll square off next week in the season's final Thursday match-up.
Watch above, via ESPN.
[image via screengrab]
–
Follow Joe DePaolo (@joe_depaolo) on Twitter
This is an opinion piece. The views expressed in this article are those of just the author.
Joe DePaolo - Senior Editor