House Democrats State Trump Will be in Breach of Contract Over DC Hotel on Inauguration Day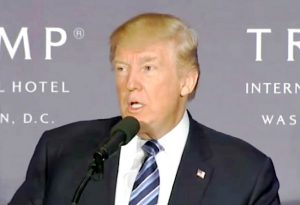 In a letter sent to the General Services Administration today, four top Congressional Democrats informed the agency that President-elect Donald Trump will be in breach of contract as it relates to his Washington, D.C. hotel unless he completely divests.
Today's letter is a follow-up on a request made in late November in which the Dems asked how the GSA plans to handle potential conflicts of interest regarding the Trump International Hotel, considering Trump has a lease with the federal government for the building, which utilizes the Old Post Office.
It was noted in the letter that the GSA's Deputy Commissioner explained earlier this month that Trump would be in breach when he enters office if he continues to have ownership interest.
Most importantly, the Deputy Commissioner informed our staff that GSA assesses that Mr. Trump will be in breach of the lease agreement the moment he takes office on January 20, 2017, unless he fully divest himself of all financial interests in the lease for the Washington, D.C. hotel," the lawmakers wrote. The Deputy Commissioner made clear that Mr. Trump must divest himself not only of managerial control but of all ownership interest as well.
Criticism was also lobbed at Ivanka Trump, due to her role in negotiating the lease with the GSA while also serving on her father's transition team, with the Dem lawmakers saying the "conflicts of interest are obvious."
Earlier this week, the incoming POTUS pushed back the news conference he had scheduled for December 15th in which he was supposed to address the future of his business interests. He now claims this will occur some time next month.
The Democratic House members who signed onto this letter were Rep. Elijah Cummings, Rep. Peter DeFazio, Rep. Gerald Connolly and Rep. Andre Carson.
[image via screengrab]
–
Follow Justin Baragona on Twitter: @justinbaragona
Have a tip we should know? tips@mediaite.com