Pope Francis Stresses 'Zero Tolerance' Policy on Sexual Abuse in Letter to Bishops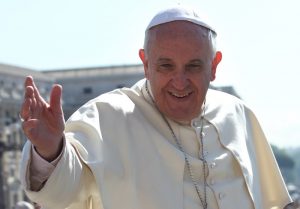 In a new letter to Catholic Bishops released publicly on Monday, Pope Francis wrote about the suffering of children, including his church's own ugly history in that realm. The Pope stresses in the memorandum that there should be a "zero tolerance" policy on sexual abuse, which goes against the church's long history of covering up, enabling, and relocating child molesters within its ranks.
In the letter, which was sent last Wednesday, the Pope writes that "the sufferings, the experiences and pain of minors who were abused sexually by priests […] is a sin that shames us." That comes as part of a larger paragraph which details the church's current official stance on sexual abuse:
We hear these children and their cries of pain; we also hear the cry of the Church our Mother, who weeps not only for the pain caused to her youngest sons and daughters, but also because she recognizes the sins of some of her members: the sufferings, the experiences and the pain of minors who were abused sexually by priests. It is a sin that shames us. Persons responsible for the protection of those children destroyed their dignity. We regret this deeply and we beg forgiveness. We join in the pain of the victims and weep for this sin. The sin of what happened, the sin of failing to help, the sin of covering up and denial, the sin of the abuse of power.

The Church also weeps bitterly over this sin of her sons and she asks forgiveness. Today, as we commemorate the feast of the Holy Innocents, I would like us to renew our complete commitment to ensuring that these atrocities will no longer take place in our midst. Let us find the courage needed to take all necessary measures and to protect in every way the lives of our children, so that such crimes may never be repeated. In this area, let us adhere, clearly and faithfully, to "zero tolerance".
Note the passive tone of he descriptions of the abuse and cover-ups: It's never what "we/you/the church/priests/bishops" did. It's "what happened." Even if a genuine zero tolerance policy is adopted, the Pope's words indicate that Catholic Church clearly has a ways to go when it comes to taking responsibility.
[Photo: Shutterstock]
Have a tip we should know? tips@mediaite.com