No, Don Lemon's Mic Was Apparently NOT Cut in Response to Calling 2016 'Awful'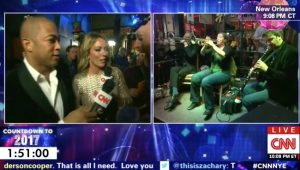 In the wee morning hours on Sunday following the ball drop in Times Square, we at Mediaite ran with a story along with many others about CNN's Don Lemon, who was on air throughout the night in New Orleans. While it was certainly a riotous time — drinks were poured and Lemon even got his ear pierced live on air — we reported that the network cut Don's microphone off after he began complaining about 2016.
This was, in fact, not entirely the full story, according to our sources at CNN.
"2016 was awful!" Lemon can be clearly heard saying at 12:01 a.m. EST, and then immediately his microphone, along with that of his colleague Brooke Baldwin, went dead, as the network live streamed background noise from the bar and showed footage of the New Year's festivities.
While our initial assertion was technically true — "CNN Cuts Off Don Lemon's Mic After He Starts Saying 2016 Was 'Awful' — it turns out that the audio challenges prompted the network to fade away from the audio feed of both anchors altogether, according to our sources at CNN.
In fact, minutes before, Lemon can faintly be heard saying, "I can't hear anything!" which was one incident throughout the night of slight audio difficulties. In reality, Lemon's comment about 2016 being "awful," as Mediaite has learned, continued by referencing the long list of beloved celebrities who we lost in the past year.
Even Baldwin can be heard exclaiming, "I can't hear a thing!" in agreement. A high-level source with CNN told Mediaite that the decision to dip out of Lemon's feed was due entirely to the consistent challenges of hearing Lemon and Baldwin in the packed New Orleans bar. At one point earlier in the evening, an entire live shot was virtually one-side, with only Baldwin's microphone picking up sound while Lemon's words couldn't be heard at all. Even Anderson Cooper joked about not being able to hear Lemon at one point.
We have also learned from sources on the scene that while Lemon was certainly having a good time, in reality he only had the few drinks that the cameras captured and apparently none during commercial breaks. But regardless, Lemon was certainly on the front lines in 2016 covering some of the most harrowing stories that came across the CNN newsroom desk, so we tip our hat to Lemon for a bit of well-deserved revelry.
Have a tip we should know? tips@mediaite.com