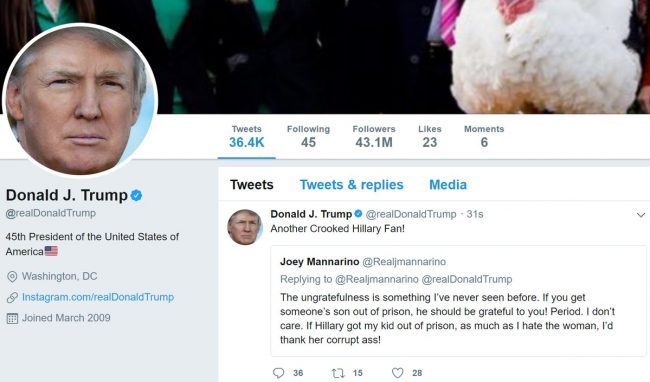 Joey Mannarino must be on some sort of emotional roller coaster today.
The co-host of  pro-Trump YourVoice™ America, and self-described "Italian-American living abroad" and "lover of good music & travel!" appeared to win the MAGA Twitter lottery when President Donald Trump re-tweeted his Tweet that criticized LaVar Ball critiques of White House efforts to get three UCLA basketball players out of trouble after they were caught shoplifting sunglasses while in China.
Mannarino tweet ripped Ball's "ungratefulness" before raising another political scenario including that stated, "If Hillary got my kid out of prison, as much as I hate the woman, I'd thank her corrupt ass!"  The Commander-in-Cheif saw that tweet as something worthy of promoting to his over 43 million followers (both fake and real), but with a strange twist that will vex future presidential historians.  Trump quoted the tweeted and added "Another Crooked Hillary Fan!"
Now did Trump misread the original tweet and use his bully pulpit to mock what the thought was a critique? Or was he joining in the anti-Hillary pile on and playing the part of the junior high mean kid that wants to pick on the kid who is already excluded from the cool kid table? It was almost certainly the later, though the lack of twitter clarity led someone (was it Dan Scavino? Sarah Sanders? President Trump himself?) to reconsider the confusing tweet and delete it. Sad face emoji for Joey.
But wait, what's this? President Trump reconsidered the Mannarino missive and retweet it without the "Another Crooked Hillary" comment?! Yes it appears so!

It's a Thanksgiving miracle! Joey Mannarino got a seat at the MAGA cool kids table!
(Cue Vince Guaraldi music and roll end credits.)
Have a tip we should know? tips@mediaite.com
Colby Hall - Founding Editor