President Trump is Now Feuding With Morning Joe Over a National Enquirer Story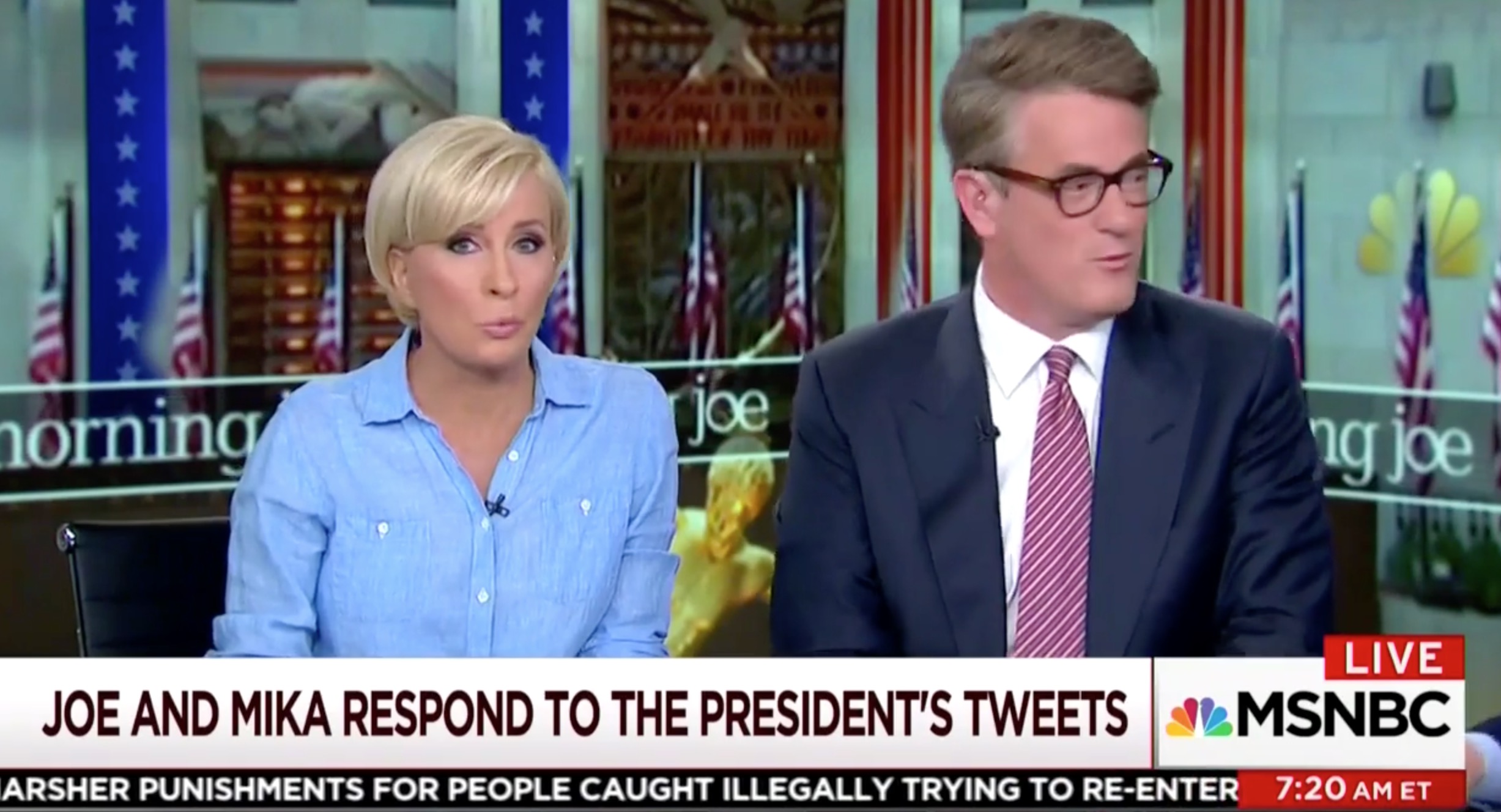 MSNBC hosts Joe Scarborough and Mika Brzezinski on Friday morning claimed President Donald Trump's administration tried to blackmail them into softening their coverage of him — and the president responded shortly after on Twitter.
After delaying their vacation to film an episode of Morning Joe following the president's stunning tweet blasting Brzezinski's bleeding face, the co-hosts and fiancées addressed Trump's attack with a stunning revelation in a Washington Post editorial.
According to Scarborough and Brzezinski, who co-wrote the WaPo piece, Trump officials offered to have the president spike a negative National Enquirer story on the hosts if they personally asked him:
This year, top White House staff members warned that the National Enquirer was planning to publish a negative article about us unless we begged the president to have the story spiked. We ignored their desperate pleas.
The MSNBC hosts also addressed the accusation on Friday morning's episode of Morning Joe, with Scarborough describing multiple calls from "three people at the very top of the administration" who said that if the anchors apologized to Trump for their hostile coverage, he would spike the story.
"The calls kept coming and kept coming, and they were like 'Call, you need to call. Please call. Come on, Joe, just pick up the phone and call him,'" Scarborough alleged.
It's worth noting that Trump has a close relationship with David Pecker, publisher of the National Enquirer.
Press secretary Sean Spicer responded to the allegations, stating he was "not aware" of any White House officials calling the hosts to blackmail them.
And then, Trump responded on Twitter, claiming Scarborough called him to request the negative National Enquirer story be spiked:
Watched low rated @Morning_Joe for first time in long time. FAKE NEWS. He called me to stop a National Enquirer article. I said no! Bad show

— Donald J. Trump (@realDonaldTrump) June 30, 2017
And if you thought this dystopian hellscape would ever end and turn out to all be a bad dream, I'm sorry to report that Scarborough responded to Trump soon after:
Yet another lie. I have texts from your top aides and phone records. Also, those records show I haven't spoken with you in many months. https://t.co/TZWiElo6Gs

— Joe Scarborough (@JoeNBC) June 30, 2017
Release the tapes, Joe.
[image via screengrab]
—
Follow Aidan McLaughlin (@aidnmclaughlin) on Twitter
Have a tip we should know? tips@mediaite.com
Aidan McLaughlin - Editor in Chief