President's Gun Control Speech Scores Victory over NRA on Optics & Message Front; Here's Why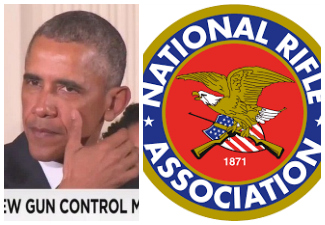 The importance of optics is something that has been discussed in this space before, particularly as it pertains to President Obama.
On a few occasions throughout his seven years in office, he has tripped badly in this regard, even admitting regret after one instance (golfing minutes after announcing the beheading of American journalist James Foley by ISIS) and acknowledging that the theater of the job does matter. Which brings us to Tuesday's announcement from the White House East Room regarding Mr. Obama's executive action on a string of new gun control measures. Simple question: Was the message and presentation effective?
First, a quick review: President makes announcement. Evokes Sandy Hook massacre. Begins to cry. Says he thinks about it every day and it makes him angry. This is a departure from the president's lack of emotion following other horrific events recently (Paris, San Bernardino) and therefore notable. Context: When John Boehner cried, it lost it's noteworthiness after the 2nd or 3rd time. But Obama's emotion appears genuine here, heartfelt. If you're a father like me and millions more out there, you drop your kids off at an educational facility every morning and marvel at the innocence and happiness of it all. And to think a monster could go in there and start executing them is enough to make any parent break down, particularly when relatives of victims of gun violence are surrounding you as they were with the president yesterday. Note: Roughly 47 percent of you out there will automatically say the president was putting on a show; another 47 percent will believe the emotion was sincere. That's just the way it is today…
Bottom line regarding optics here: The president's speech was very effective in that he showed he cares … that he's trying to at least do something about a growing, disturbing problem facing this country to any extent he can on his own.
Of course, the strategy itself or focus applied may not correct or clear. Here's what the AP fact check conclusion is on the president's announcement:
The gun control measures a tearful President Barack Obama announced Tuesday would not have prevented the slaughters of 20 first-graders at Sandy Hook Elementary School in Newtown, Connecticut, or 14 county workers at a holiday party in San Bernardino, California. …

Those measures are seen as crucial to stemming gun suicides — the cause of two-thirds of gun deaths — by blocking immediate access to weapons. But, an Associated Press review shows, they would have had no impact in keeping weapons from the hands of suspects in several of the deadliest recent mass shootings that have spurred calls for tighter gun control.

The shooters at Sandy Hook and San Bernardino used weapons bought by others, shielding them from background checks. In other cases, the shooters legally bought guns.
Then there's enforcement — or lack thereof — of existing gun laws currently on the books. According to the Transactional Records Access Clearinghouse at Syracuse University, gun convictions peaked at 9,206 ten years ago but have steadily declined under the current administration, hitting a low of 6,002 in fiscal year 2015 — a drop of 35 percent.
But here's the thing about the AP fact check and the stats cited around gun convictions above: Only those following the story closely and/or have a certain position on guns are remotely aware of that fact check or of those stats. Instead, the only image and soundbites likely heard by a solid majority of people not glued to the news or Internet all day were those of a tearful president and his efforts to curb gun violence in this country. And with a CBS News/New York Times poll in October showing hat 92 percent of Americans — including 87 percent of Republicans — favoring background checks for all gun buyers, almost all will see or hear what the president said and nod in agreement despite any fact-checks or stats presented after the fact.
Finally, here's another reason why the president won the optics game and the news cycle yesterday: The NRA's deplorable tweet (gaining more attention in the press) aimed at two New York lawmakers who recently announced legislation seeking to limit ammunition sales. As you can see, the image — courtesy of an NRA publication called America's 1st Freedom — features photos of state Senator Roxanne Persaud (D) and Assemblywoman Jo Anne Simon (D) with bullets sprinkled next to them. Obviously both disturbing and dangerous, and an optic fail of the very worst kind.
Sounding off on one of the most ridiculous anti-gun schemes introduced in some time: https://t.co/nDt77l6OuQ pic.twitter.com/JI86OQ5HI0

— Americas1stFreedom (@NRAA1F) January 4, 2016
So agree with the president's actions, disagree with it. Either way, the presentation was effective, and the basic message of "at least he's trying to to something" resonates. And in this political environment, the message sometimes is as important as the substance — or lack thereof — behind it.
— —
Follow Joe Concha on Twitter @JoeConchaTV
This is an opinion piece. The views expressed in this article are those of just the author.