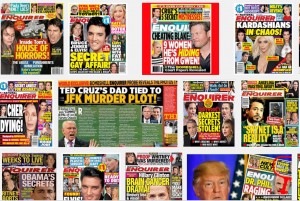 In another apparent effort to push a Trump-friendly narrative on the presidential campaign, the tabloid National Enquirer  published an "exclusive" report explicating Hillary Clinton's several supposed health problems.
The tabloid has already endorsed Donald Trump and has frequently published "stories" smearing his opponents and bolstering his campaign.
Their latest is a breathless slideshow, entitled "Hillary Clinton's Secret Health Crisis," that accuses the Democratic nominee of — deep breath — "suffering from the early stages of the debilitating disease multiple sclerosis," having "suffered three secret strokes," and being plagued by a catalogue of "blackouts, falls, memory loss, blinding headaches, vision problems and collapses."
The slideshow cites an anonymous cadre of "insiders" and "journalists," but nobody speaking on the record.
The notion that Clinton's health is failing is being trotted out Monday by a number of conservative outlets, which have gone as far as to exhume a six-month-old photograph of Clinton slipping on ice as "evidence."
Previously the Enquirer pushed stories designed to hobble Sen. Ted Cruz, Trump's closest challenger in the GOP primary, including accusations of infidelity and reports that Cruz's father was linked to the assassination of JFK. On the campaign trail Trump re-aired Enquirer stories in cable news interviews, citing them as real news. Trump has defended the tabloid as a credible news source.
It's part of what RealClearPolitics' Carl M. Cannon described in May as a "suspicious" pattern of the tabloid trashing Trump's rivals. He wrote:
The Enquirer claimed that Marco Rubio was supporting a second family, that Carly Fiorina is a homewrecker, and that surgeon Ben Carson occasionally behaves like an unhinged maniac in the operating room. It re-circulated an old allegation from Trump pal and adviser Roger Stone alleging that Jeb Bush snorted cocaine in the vice president's home in the Naval Observatory the night his father was elected president.
As Trump once put it, "Why didn't the National Enquirer get the Pulitzer Prize?"
—
Sam Reisman (@thericeman) is a staff editor at Mediaite.
This is an opinion piece. The views expressed in this article are those of just the author.