Scott Baio Repeatedly Tells Interviewer He Does 'Not Care' What People Think of His Conservatism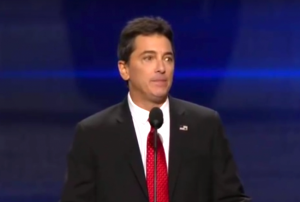 Scott Baio doesn't do especially well in interviews. Remember that disastrous show-down with Tamron Hall at the RNC over his tweet not-so-subtly implying Hillary Clinton is a, uh, "c-word"? Well, this is even better than that, as far as wild interview answers go.
When Paul Bond of the Hollywood Reporter asked the diehard Donald Trump supporter how he felt about his candidate insulting the Gold Star Khan family, Baio offhandedly tried to direct the conversation to Clinton. Then, he said, "It's amazing. I mean, I don't know where you stand politically — you work for The Hollywood Reporter so I'm sure you lean left." There is no better way to begin an interview than by getting hostile with the person asking you the questions.
Baio continued being aggressive. He answered a question about whether he even still enjoys acting by saying he doesn't want to hear people talk about racism. When asked about whether his RNC speech might have damaged his acting career in general, he said this:
I'll give you a very simple answer: I don't care. I genuinely, in my heart, do not care if I ever work again. I don't care.
He explained that he is currently working on two projects but declined to say what they were. Then:
Normally, I'd just say I'm doing nothing, but I actually have two things I'm working on and, honest to God, people don't believe me. I genuinely do not care. If I can get my country back to where I think it can be and my career suffers, I win.
Throughout the interview, there were many iterations of, "People think I care but I do not care."
Read the whole thing to find out what he had to say about Democrats having emotions and all the Mexicans coming into America.
[image via screengrab]
Have a tip we should know? tips@mediaite.com